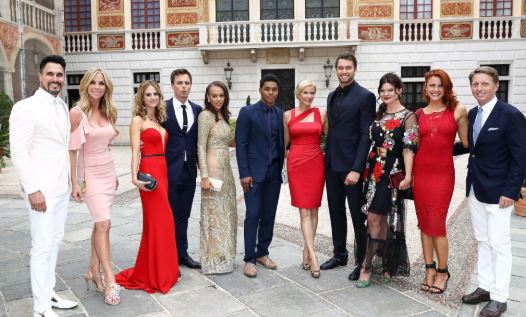 The Bold and the Beautiful fans are always looking to see if anyone has changed more than others, and there are some characters who cannot seem to make their life work as one person. They have to come back and reinvent themselves as someone else. They might just have a change of heart. They might just have a situation in which they don't know what else to do other than sit back and act like they have it all under control. They might not know what to do otherwise. They might just have some situations where they cannot get their life in order, but they also can't stop making things happen for themselves that don't work. That's why so many women have changed over the years. They've grown up. They've realized it's not working. These are our favorite female character transformations.
Steffy Forrester
She's one of our favorites in every which way. She has managed to make things work for her even when they don't work for her, if that makes any sense. She's been a little girl who rapidly aged to a teenager, and she wasn't a good one. She was so mad at Hope most of her teen years. They were sometimes stepsisters and sometimes not, but it appears to us they were almost always pitted against one another in a manner that didn't work for them. They were a mess then, and Steffy was meaner than ever. She's always been a strong woman, but she used her strength back then for all the wrong reasons. She did things that were mean and awful, that were hurtful and unkind, and that didn't suit her.
She didn't grow out of that for a long time, and really only recently. We think having a baby of her own made her grow up a lot. She has to think of someone else now, and she's doing that with a very special situation in her mind. She's not someone who will help herself above her daughter, but she's also not someone who will sit around and let another man dictate how she lived her life. She's done with that, and she's grown well into her own kind of woman. She's still strong, but she's done using that to make other people miserable. Instead, she's using her strength to benefit herself and her daughter. And that's what we love about that entire thing.
Sally Spectra
She's new-ish. She's not been on the scene for a while, but she's been around the block long enough for us to understand she's changed her ways. She's a woman who showed up with some very ugly grudges to burn. She wanted to make the Forrester family pay. She stole their designs, their people, their husbands. She worked very hard to make sure that the entire family would fail and they were not going to beat her and her family with their own games and their own desires. It's something they've been working on for many years, and she took over what her own family started all those years ago.
And that's what she was. She is now a different person. She came back with a different personality, a different goal, and a different outlook. She fell for Wyatt. She made beautiful choices with him, and she forgave the Forresters for her own issues with them that were not even her own issues. It's been a very interesting situation. And that's been good for her. She's a new person who has a new lease on life.
Quinn
She's someone special. She's a hot mess who will push you over a cliff and make you die and then come back to life. She will kidnap you and make you forget who you are so her son can take your girlfriend. She will make out with her husband's son. She will do all the questionable things, and then she will change. She's been so neutral and calm for like a year now, and we don't even know who she is anymore. She's not in the middle of her son's life like it's her job. She's not in anyone else's business. She's not anything other than a totally normal mom and wife these days, and it's kind of boring.