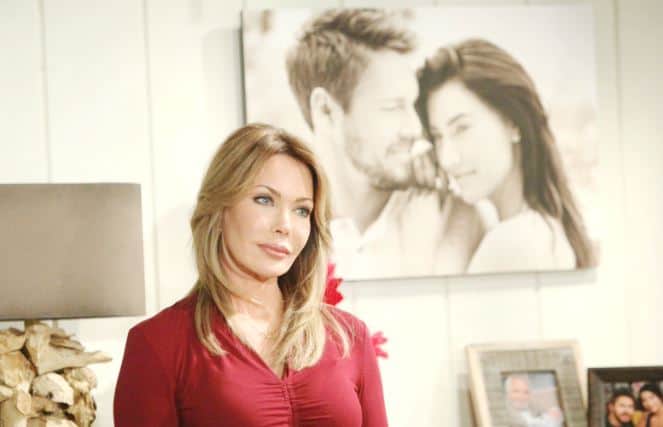 The Bold and the Beautiful fans are excited about all that Quinn is unaware of. We know that we all got to see Donna model some very interesting lingerie for Eric, and she did that while Pam made sure that Quinn was not around to see what was happening because she wanted to keep her distracted to ensure that there was time for Donna to get as little on her body as she could in hopes that she could get Eric to find himself attracted to her yet again. It was interesting to see this happen, and we are surprised that Quinn did not seem to notice that there was so much happening with Pam at the moment. Pam's not usually so into working with her or doing things for her, and this should have been some sort of warning for her. But that's not all, either. They should have known.
And then there is Bill telling Brooke that he didn't press charges because he already knows what Taylor did. When he told her that he didn't want to do that to her because he chose not to, she was beside herself with anger and shock and feelings that she could not control or handle. She's not happy that he made this decision and we do have a feeling that she will find a way to see if she can make this decision her own at some point. She's that kind of woman, and we think that she will do anything and everything she can to make sure she's able to get her life to work out in this manner. She might not like it, but she will get her way when it comes to getting what she wants from Bill. She needs to back off, but she will never do it.
What's Happening on the Bold and the Beautiful
Did you ever think you would see this happen? #BoldandBeautiful pic.twitter.com/6DWiB0qj3l

— Bold & The Beautiful (@BandB_CBS) December 4, 2018
Do you think that seeing this happen felt so good to Brooke that she couldn't even control herself? We aren't sure she is going to pass up what just happened and make it seem like anything other than what it was.
What's Next on the Bold and the Beautiful
A truth bombshell leaves everyone running for cover this week on #BoldandBeautiful. 💥 Don't miss it! pic.twitter.com/ZduCY0PDOY

— Bold & The Beautiful (@BandB_CBS) December 2, 2018
There's a lot happening here, but we will go ahead and tell you that there will be a major discussion about a few things that don't seem to matter much to anyone but the two people involved in the conversation. You see, Ridge and Brooke are going to discuss Taylor and Bill, and they will not agree with one another. She thinks that his ex is the more dangerous of he two, and he thinks that her ex is the more dangerous of the two. The fact is that they both want the other to stay away from their own ex, but neither of them really seems to get what is going on in this conversation. They don't seem to really get that there is not much that they can do other than focus on what is happening, what is good, and what is going to make the biggest difference for them. They're not going to agree, ever.
Taylor is going to meet Reese, and we hear that they are going to hit it off in a big way. They will meet when Steffy hosts her party, and we can't decide if anyone will be surprised that these two get along so well. We aren't sure that they will feel that they haven't known one another their entire lives, but we can be sure that someone will warn Reese to watch out and not spend so much time with a woman who will openly shoot and try to kill a man for whatever she feels her reasons are. And we think that will be Hope.
Stay tuned for more The Bold and the Beautiful and be sure to check out TVOvermind daily for the latest The Bold and the Beautiful spoilers, news, and updates.
Tell us what's wrong with this post? How could we improve it? :)
Let us improve this post!