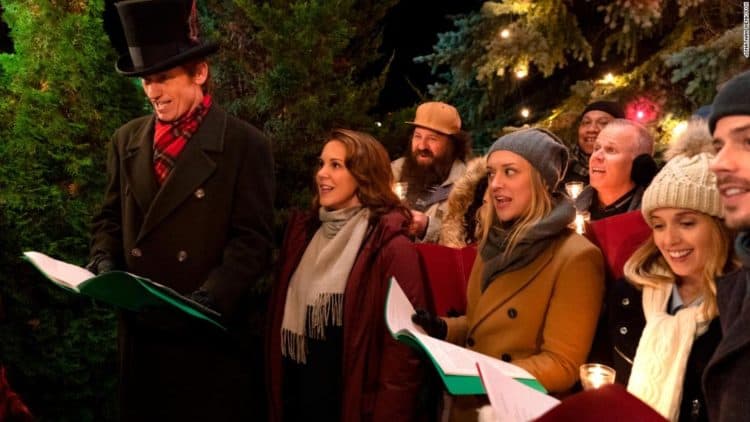 There is a new television series on Fox that is likely to resonate with at least some audiences, if not all of them. It's called "The Moodys." If you haven't yet heard of it then it's something that you might want to learn more about. The show is holiday-themed and it follows the lives of a dysfunctional family in a comedic rendering of their everyday lives. We all have our ups and downs and this show is one that highlights those cringe-worthy moments that happen in most families at one time or another. Here are 10 things you didn't know about "The Moody's" that might make you want to give it a shot.
1. The sitcom is a remake
If you're from the United States and you haven't heard about "The Moody's" yet, it's probably because the show originated in Australia. It found an audience in that country and so American producers wanted to bring it to American audiences in hopes that it would meet with the same level of approval. The show is a remake of the Australian version similar to the way that "The Office" that was popular in the UK found a niche of viewers in the US.
2. The timing for "The Moody's debut is perfect
With the holidays getting into full-swing there are a lot of added stresses and pressures to find the right gifts for everyone, entertain guests with tasty snacks at holiday parties along with the increase in expenses that seem to naturally come with this time of year. We could all use a little humor to help lighten things up. The timing for a holiday-themed comedy about screwed up family members might be just what the doctor ordered to help us all laugh at some of the crazy things that happen during the holidays instead of getting uptight about it.
3. It's about a suburban family
The gist of the show centers around a suburban Chicago household where the Moody's interact with some degree of oddity. They are a tight-knit family, but it seems that every one of them has something crazy going on in their lives. There will be drama, secrets, lies, and cover-ups, which are the elements that viewers have seemed to enjoy in their sitcoms for decades. The kids are coming home for the holidays and everyone has a few issues.
4. There will be generational differences of opinion
Another element about the show that will hit home with most viewers is that the mom and dad have their own ideas of what Christmas should be. Mom wants to have a traditional tree trimming ceremony but the kids instead want to go out to an alumni party. Dad intervenes to save the day by ordering them to fulfill their mother's wishes. There are going to be many scenes that showcase typical mini-crises that happen within families that it's bound to touch a few of us.
5. Extended family issues highlighted
Most of us have extended family members such as cousins or aunts and uncles that have crazy things going on in their lives. "The Moody's" is going to feature a few very interesting characters that are either related to the main family or loosely associated with them as acquaintances or significant others of family members to keep the drama rolling.
6. There will be serious issues presented
While the show is definitely within the comedy genre, it's not all fun and games. There are serious issues presented that are not funny, or at least not that funny. Sean Sr. has been diagnosed with breast cancer and he is scheduled to begin treatments after the holidays are over. The family doesn't know about his diagnoses and it will be interesting to see how the writers handle this twist in the story.
7. It's only set for 6 episodes
It's always exciting when there is a new television series coming on the air, but the new shows don't all make the grade. Whether or not it returns for a second season depends upon the ratings that it receives within the six episodes that have been approved for air time. While the dysfunctional aspects of the family are where the humor is intended to be generated, it's also written to be a family drama that warms the heart. Only time will tell if it's going to become popular enough to warrant a second season.
8. The timing is going to be different
While most television series are shown once a week over a period of time, "The Moody's" has a totally different schedule. Since it has a holiday theme it makes sense to get them all in during the Christmas season. It has been scheduled to air on Wednesday nights in a three week period so this means 2 episodes per week.
9. The show has a solid cast
We were impressed to learn that Denis Leary has been cast in the role of Sean Moody Sr. He's a well-known comedian and actor who is best known for "Rescue Me," and "Animal Kingdom." He is joined by actress Elizabeth Perkins" who plays the part of his wife Ann Moody. They're joined by the actors playing their three adult children including Chelsea Frei, Jay Baruchel, and Francois Arnaud.
10. "The Moodys" might be your holiday salvation
This is the time of year when good cheer is supposed to flow like a river, and most of the time it does. Then, on the other hand, there are so many things to get done before the big event that life can become hectic and filled with stress. When unexpected family members show up, the stress meter pegs in the red. Something as simple as a great comedy show that makes light of the real-life annoyances and dramas that happen in families can help to lighten your mood and even make you smile through it all.