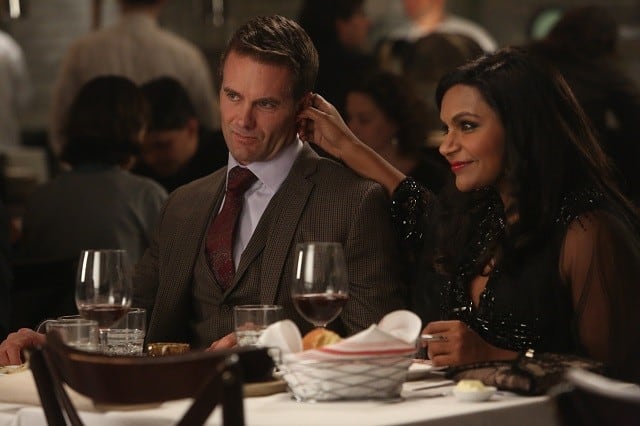 As Jeremy says outright near the beginning of "Jody Kimball-Kinney Is My Husband," this week's episode of The Mindy Project is pure farce. The series takes an over-the-top (and overused) sitcom premise (pretending be someone's girlfriend/spouse) and uses it as an excuse to put Mindy Kaling and Garret Dillahunt in a lot of scenes together because the two of them play off each other so well. And on a strictly superficial level, it works; this week's The Mindy Project is a lot of fun from the get-go, and even though things begin to fizzle out near the end of the half hour, it's still a very entertaining installment of the Hulu comedy.
I may be one of the only ones out there (judging by the response I've seen to the character online), but I'm a big fan of Jody. Sure, he's pretty much a walking, talking Southern caricature, but Dillahunt brings so much charm and charisma to the role that it's hard not to like him. While The Mindy Project's efforts to add depth to Jody's character aren't always successful (in this week's episode, he tries to explain his lusting after his brother's wife by admitting that he always wanted what his brother had), they're merely an afterthought when given such a fun, wacky, and downright ridiculous character. In a lot of ways, it's similar to how the series uses Morgan, a character that only works because of Ike Barinholtz's line delivery and physical comedy abilities.
By pairing up Jody and Mindy for the majority of "Jody Kimball-Kinney Is My Husband," The Mindy Project allows for the characters' different personalities to clash in interesting ways, and although their back-and-forth doesn't always work, it hits the right notes more often than not. Similar to Mindy and Danny during The Mindy Project's first two seasons (although without any of the romantic implications), the contrasting ways that Mindy and Jody see the world and approach life leads to a good bit of friction between the two of them, which then typically blossoms into some terrific comedy and, in the best cases, enlightening looks into their lives–scenes that reveal something to them or us (or hopefully both) that we hadn't quite realized before.
Is "Jody Kimball-Kinney Is My Husband" the best case scenario for The Mindy Project? No, not at all. Jody's desire to be like his brother comes out of left field and doesn't excuse his womanizing behavior, and the perfunctory way that Mindy connects his and her conflicts while they're stuck in the bathroom together isn't smart or nuanced (although I don't think it's trying to be: the joke here is how easily Mindy spells everything out for them both). We've seen The Mindy Project be better than this, especially in this fourth season, which has been quite superb.
However, just because The Mindy Project didn't hit a home run this week doesn't mean it struck out (I hope Mindy would like that analogy better than Jody's tugboat one). "Jody Kimball-Kinney Is My Husband" is still a highly entertaining episode of The Mindy Project, one that had me laughing out loud more times than I can count. And sometimes, laughter is all you need from a comedy, even one like Mindy, which has proven in the past that it can be so much more.
Other thoughts:
While the first half of this episode gives us some moments with the supporting characters on the show, the second half is literally all Mindy and Jody. Again, that's not a bad thing, as some of The Mindy Project's best episodes in the past have focused solely on Mindy and Danny or Mindy and Morgan. However, it does speak to the show's need to not only evolve its secondary players but also incorporate them in more significant ways.
One other note: even though the plot of this episode is pretty over-the-top, I'm happy that it was kick-started by Mindy wanting to do something special for Leo. If there's one thing The Mindy Project has done a terrific job of in its Danny-less episode, it's show just how great of a mom Mindy Lahiri is.
Can't get over the fact that the names of the two other babies in the opening scene were "Gratitude" and "Sriracha."
Two of the lines from Jeremy's school song: "Cry not for mother/Books are your parents now." I really want a flashback episode focusing on Jeremy's childhood.
Mindy tells Jody that not everything is about sex just as her vibrating seat cushion (with Oscar Isaac's face on it) arrives. I hope that's a real thing that people can buy.
Danny needs to come back now. This show is severely missing him.
What did you think of this week's episode of The Mindy Project? Comment below and let me know.
[Photo credit: Jordin Althaus/Universal Television]