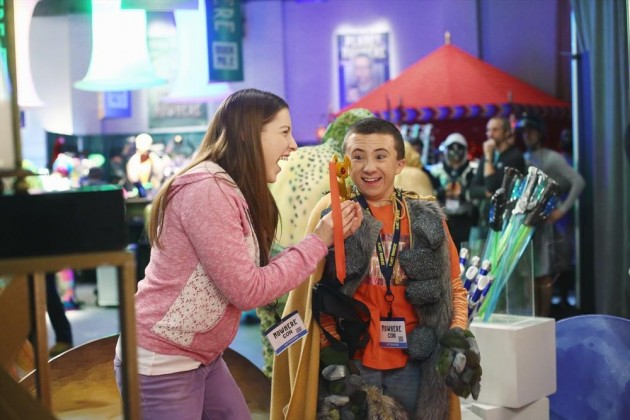 This week's episode of The Middle felt like a great improvement from its recent slight downturn into general bad taste. Dealing with a harmless crush on one of her son's friends, Frankie was actually funny again. The best and most unexpected part of the episode was the sibling bonding between Sue and Brick.
Mike picked up a Bluetooth speaker for Frankie's car in a dollar bin at a garage sale because he knows what a distracted driver she can be. Coincidentally, Mike is soon called on by her dad/his father-in-law to help him study for his driver's test. I would say this runs in the family but we see that Tag actually has legitimate reasons to be labeled a dangerous driver. Frankie has no such excuse, other than potentially becoming too reckless and lazy behind the wheel. But I digress. The fact that the Bluetooth was used should have been enough reason to squash any fears that it actually works well enough for Axl and his visiting friend Finn to have overheard Frankie talking about Finn. It was cute though to see Frankie develop a little crush on Finn, as she even says Mike turns into a flirt with waitresses at diners. Obviously, Finn just has that baby face that women of all ages swoon to, so Frankie shouldn't be so offended when Axl clears up any misunderstanding there. As long as she felt good about herself for a couple days, that's all that matters.
Sue is still technically punished from her quarry party, so Frankie and Mike figure they're going to use this as the perfect excuse to get out of taking Brick to a convention he had his heart set on. Poor Brick. Seriously, he was so excited for this Nowhere Con that he made his own costume and all. His parents legitimately forgot that they said they'd bring him, and as usual, he's pawned off onto someone else. It warmed my heart to see Sue eventually really get into the spirit of the convention.
Their conversation on the drive home actually made me tear up a little. I'm the youngest in my family, so I can relate to Brick about that fear of being the last kid at home when your siblings go off to college. For once, he felt like someone in his family actually cared about him and his interests. None of the Heck siblings are particularly close, but the fear of physical distance once Sue goes off to college could mean this newfound common interest could only be fleeting. Now that Sue is a fan of the Planet Nowhere series, they'll actually only have more reasons to stay in touch once she goes off to college. I bet she hasn't even read the books yet, so maybe she'll be borrowing Brick's personally recorded tapes, complete with his whispers for added effect!
Notable quotables:
-"I can't see colors anymore. I figured it out. I stop at every light, count to 5, and go." -Tag's dangerous defense for his recent driving troubles.
-"Today was amazing. I know you were forced to take me but still. We hung out together, you talked to me. I mean, you understand Planet Nowhere. I feel like someone in this family finally gets me. And you're about to leave for college." -Brick
What did you think of "Flirting with Disaster"?
[Photo via ABC]