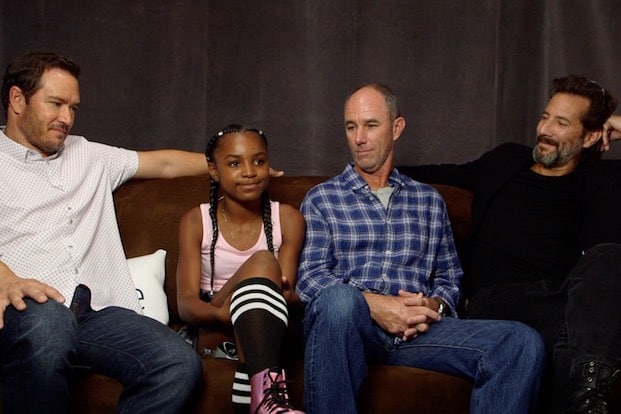 The propensity that humanity has in bringing about their own demise is well-documented in fiction as well as reality, and The Passage is yet another chapter in the inevitable downfall that humanity has seemed intent on engineering throughout the years. Thankfully most of the fiction that is delivered to the general public is just that, fiction. But The Passage seems to be the kind of show that depicts the supposed end coming from yet another machination of humanity that strives to do something great and inherently positive but in doing so fails to recognize the potential backlash of events that might very well be the doom of those they're trying to help. So far the show sounds like something quite interesting on a moral and ethical level, but apart from that it's got a stunning cast that pulls together veterans and newcomers alike that might very well be able to create something that's able to capture the imagination of an audience that is always clamoring for something new.
Here are a few of the cast members to keep an eye on.
Caroline Chikezie
Caroline has a fairly long history in front of the camera and also has a commanding presence that helped to land her the role of Queen Tamlin on The Shannara Chronicles. It's no wonder that she's taking such a big position in this show since she's one of the doctors in charge of the project that is creating a cure for the world's ills but at the same time is creating a race of people that have yet to figure out just what they can do.
Jamie McShane
Jamie has been an extra in a lot of movies and he's taken on so many roles in TV that it's hard to list them all in one article. But you might recall that he spent a good deal of time on the show Sons of Anarchy as well as Bloodline. He's found a good home on many shows for a while and been kind of a one and done player in others, but in this show he's going to be seen to stick around a bit and possibly have a bigger impact on the outcome. In any case he's earned his accolades since he's been around the block a few times.
Brianne Howey
Brianne isn't a newcomer by any means when it comes to show business but it could be that those who know about her managed to catch her act early on and have been watching her since, while those that didn't just haven't seen what she can do yet. That's really all it comes down to usually is who's seen this or that actor and who hasn't. Once the majority have seen them then it becomes possible to say whether or not they have the faith of the people. Right now though one can easily say that she's done a stellar job in just about every role she's taken on.
Emanuelle Chriqrui
One very memorable role that stands out for Emmanuelle came during the slasher movie Wrong Turn in which she and her costars played a bunch of people lost in the woods after a car crash left them without a working vehicle. Another would be the more recent Super Troopers 2 in which she played an undercover agent trying to bust a smuggling ring by a Canadian mayor. As her career has gone on she's definitely matured into a very knowledgeable and skilled actress, though her roles have differed quite a bit from each other.
Saniyaa Sidney
Just because she's young doesn't mean she's inexperienced. Saniyaa has already been in a few films and TV shows of note such as American Horror Story: Roanoke, and Hidden Figures. She's proven so far that she's got the kind of skill that causes people to want her back on screen and in this show it would seem that she's one of the perfect individuals in terms of what she can do and how innocent she can look.
Henry Ian Cusick
There are a few shows and movies that really highlight Henry's skill such as Lost and the 100 in which he plays kind of a jerk character to start out with but shows how he can evolve throughout the series as he becomes someone that people trust for a good reason after a while. This is the kind of guy you want on set since he seems like he'd be a natural-born leader. His character do seem a bit irritating at first but that's part of the charm since they tend to undergo transitions from being irritable to endearing.
Mark-Paul Gosselaar
He's come a long way from his Saved By The Bell days, but Mark has certainly turned on the charm and increased his level of skill over the years as for a while it seemed as though was going to be stuck doing films that went straight to DVD and shows that few if any people ever heard of. This is a big deal for him and it's actually nice to see how he's grown and expanded his repertoire.
Give the show a look, it could be worth it.