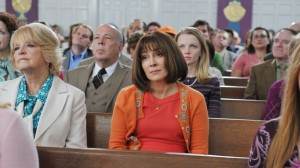 It's been a few weeks since the last new episode of The Middle, so it's about time for everyone to get their business done. At church on Sunday, everyone other than Frankie has a job to do–Mike is an usher (and Axl joins him), Sue is helping out with the toddlers, and Brick is attending Sunday school because he can't understand why someone would turn water into wine in a desert environment. Frankie is the only one who has to listen to the long, boring sermons of Reverend Hayver.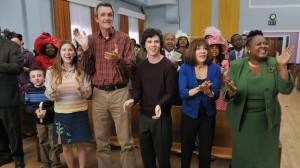 One of Mike's friends suggests they attend his church instead. They do, and it's the best time they've ever had at church, even if they stand out as the only Caucasians in attendance. There are bright colors, cheerful singing, and a mantra to "get your business done" while you still can. Frankie in particular takes this to heart, but the whole family decides they need to figure out what their business is and get it done. Brick agrees, "Testify!" (Whisper: "Testify.")
Frankie can't decide what her business is, and believes Mike is in the same situation, but he's not. He tells Frankie he needs to tell his dad how much he appreciated him taking care of him and his brothers after their mom died. He picks up the phone, talks to his dad, and his business is done.
Brick decides his business is to get a new bed, because he's wanted one for a long time and his parents never came through. He wants Axl to take him to get it, and manages to convince his older brother that his business should be to hang out with his little brother. Axl agrees, but ends up convincing Brick to get a multi-game table instead. Game after game, Brick loses to Axl, and at the end of the day they cover the table in a sheet–just to protect the table–and Brick has to sleep in the box it came in. In the morning, however, they try air hockey, and because Brick can figure out how angles determine the direction of the disc, he beats Axl every time. Axl doesn't like this, so he's willing to bet Brick everything he owns to continue playing; after a while, the only thing Axl has left that Brick wants is his bed. He gets it. Brick's business is done, and although Axl has no possessions left, his business is done too.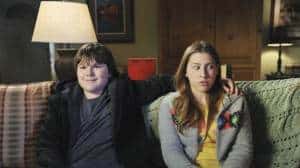 Sue's goal is to literally start her own business, so she does: Sue's Baby-Sue-tting service. She may have loved the toddlers at church, but her first babysitting client is 14-year-old Tyler. His parents don't trust him to be on his own, but there's a long list of things that Sue has to remember to prevent him from freaking out: he can't drink pop, he can't have ice, he can't watch anything too violent or colorful on TV, he has to wear pull-ups to bed but she has to call them "space pants," and he can't find out that Sue is the babysitter–he thinks he's babysitting Sue. Despite these obstacles, Sue comes up with ways to obey the rules. She tells Tyler, "I'm going to let you in on a little secret. I'm a bed wetter. Yep. So every night before I go to sleep, I put on my high-tech space pants, which keep me nice and dry as I blast off into my dreams!" Tyler simply calls her a nerd, but the next time his parent's call Sue to babysit, she agrees to take the job because she needs the referrals. This time, Tyler starts to hit on her and she calls Mike to rescue her. Mike, however, isn't as good with Tyler: sometime after telling him to put on his pull-ups, Tyler freaked out.
Frankie has a rough time getting her business done. First she tries beading, but then decides that she can't have business that only benefits herself. Her business will be other people's business. After searching "sad" on Google, she found millions of results for orphanages, animal shelters and old people's homes. She decides that children, animals and old people all like each other, so she should build a super shelter–she will need to call Congress. When that idea fizzes out and she nearly has a panic attack in bed, she decides to make first aid kits for soldiers. She rushes to the pharmacy, where she starts clearing the shelves until she realizes that soldiers already have first aid kits: she will make first aid kits for animals. She frantically asks an employee at the pharmacy if they have any animal-specific first aid supplies, and the man thinks Frankie probably isn't feeling well. She's not, and she asks him to feel her pulse but he's not allowed to touch customers anymore. He takes her to the blood pressure monitor, and her pressure is 160/102. Worse yet, she gets stuck in the monitor. Just like Tyler, Frankie is freaking out; that is until old Reverend Hayver walks in and starts telling her a story. It calms her down, and she realizes that going to her old church gave her a moment of calmness that allowed her to get her business done the rest of the week. Back to their old church they go.
Well, my business here is done for the week. Watch The Middle, Wednesdays at 8/7c on ABC.