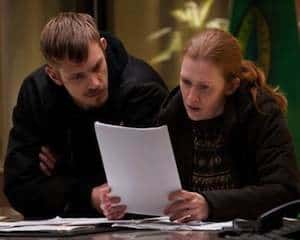 Last night viewers finally discovered who killed Rosie Larsen. After two seasons of red herrings, crazy twists, and a whole lot of rain, The Killing answered its central mystery with an emotional finale that provided both the Larsens and the audience with some closure. On the heels of last week's penultimate episode, it appeared that The Killing may have been setting up one last red herring; there was no way in most viewers' minds (including our own writer Jon's) that Richmond campaign advisor, Jamie Wright, was solely responsible for Rosie's death. However, the finale's first fifteen minutes showed how deep Jamie's involvement had been: he had beaten Rosie, chased her down she had escaped into the woods, and put her in his truck, all for the sake of "helping" Richmond's political career. Jamie could not help himself though. Right after confessing his crimes to Richmond, Jamie was shot dead by Holder. He and Linden arrived on the scene right after Jamie had finally broken to Richmond's questioning, and when Jamie would not drop the gun he was holding, Holder had no choice but to shoot. It appeared that the show was solving its crime early, opting to focus on the emotional healing of the Larsen family and Holder and Linden, the two detectives who went above and beyond to try and solve this case, even in the face of harsh consequences.
The Killing still had one final twist left in it, however. With the show nearing its conclusion, Holder and Linden went to tell the Larsens that they had finally caught Rosie's killer, that it was finally over, but the pair soon discovered (thanks to her car's broken taillight, which directly connected her with Michael Ames and Jamie on the night of Rosie's murder) Rosie's Aunt Terry was also involved. In fact, despite Jamie's beating and capturing of Rosie, it was Terry who was the true culprit. Jamie had called Michael Ames who had been with Terry at the time to help him take care of Rosie on the night of her death. He explained to Ames how he had a girl in his trunk who threatened the construction deal that they and Chief Jackson had been conspiring together. Ames was planning on using his profits to divorce his wife and be with Terry, but decided that he would not leave her if the only option that he and Jamie had to ensure that the deal went through was murder. In a desperate effort to prevent herself from losing the man she loved, Terry pushed the car into the lake, where Rosie (who could chillingly be heard screaming as water submerged the car the in the show's flashback) died. The most tragic part of Terry's confession was the fact that she had not known that it was Rosie inside; she had killed her niece without even intending to do it.
All in all, I am content with the conclusion of the Rosie Larsen case. The Killing remained true to its twist-filled nature, while also providing the audience with a plausible situation for how Rosie died and with a killer whose motivations made sense. Although it was an answer to this long-stretching mystery that kept many viewers watching The Killing, for me it was the relationship between Holder and Linden (specifically the fantastic performance from Joel Kinnaman) and the Larsen family's struggle of how to respond and move on from Rosie's death. Both of these stories reached emotionally satisfying endings, especially the Larsens' storyline (the scene of the family watching Rosie's film brought tears to my eyes and was one of the greatest emotional moments ever on The Killing). Even if the show is not picked up for a third season, I have no regrets about investing my time in it. Even though its slow pace and red herrings could be frustrating from time to time, The Killing did a great job of keeping me interested in its characters. Now, I want to turn it over to the readers. What did you think about the way Season 2 of The Killing wrapped up? Were you satisfied with who killed Rosie or did you want more? What were your favorite moments from the finale?