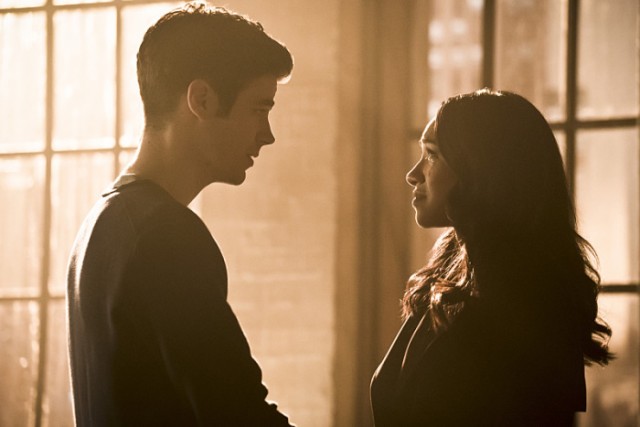 After a strong crossover with Arrow last week, this week's The Flash was all about The Rogues crashing the holidays. The Trickster, Weather Wizard, and Captain Cold came together to go up against the Fastest Man Alive, while Iris tells Joe and Barry about her brother and Joe's son, Wally West.
Seeing Mark Hamill make his return as the Trickster was, without a doubt, one of the highlights of the episode, although the team-up went differently than I initially speculated. Cold was barely involved, although it made 100% sense for him to not want to kill The Flash; additionally, he pretty much got his send-off as he moves to DC's Legends of Tomorrow next month. Liam McIntyre as Weather Wizard is just pure fun to watch, and you can tell he has a blast with this role. What I'm hoping for next time is an even bigger team-up with the Rogues, so we can also see people like Pied Piper, Golden Glider, and hopefully even Mirror Master all come together against Flash.
I really loved how well this episode dealt with Iris telling Barry and Joe the secret she had been carrying as well as how they reacted to it. The last thing I wanted to see was them getting furious with her for keeping it from them, because in all honesty, after all the secrets they kept from her last season, they have no right to get angry at her. I'm glad that Barry was 100% supportive of her, while Joe was mature about the information and didn't give her crap for it. Both Jesse L. Martin and Candice Patton stole the show in this finale with their emotional performances. Although the one criticism I will give this storyline was that there could have been more. There were elements that just happened off-screen instead, which is a bummer. Lastly, as I've been waiting for so long to see this moment happen, I got really emotional when seeing Wally West show up at the end, even for just 45 seconds, and the thing that I'm looking forward to the most on The Flash in 2016 is seeing Wally in this world.
Patty had quite the adventure in this episode as her father's murderer returned to town, and it happens to be Mark Mardon himself. While I can see Patty's point of view about wanting to bring this man to justice for what he did to he family, it spun a bit out of control. Something that I hadn't thought of until this episode is that these police departments in the CW's DC TV Universe gets away with so much that it's not even funny. It felt very wrong to see an officer like Patty abusing her privileges as a cop to the point where she almost killed Mark. And before I go on, it's not just Patty specifically that I think abuses her power; if I had the time, I would breakdown the mess that is the Star City Police Department.
Patty still remains the one character in the new season of The Flash that I'm having a hard time getting behind with, and this episode didn't make me have a change of heart. The only thing I kept thinking at the end was she better had received some sort of consequence or suspension by Captain Singh for how she acted this week, even though she ended up not killing Mardon. She has had her good and bad moments thus far, so I'm not totally giving up on the character yet. Hopefully, the second half of the season will be a 180 for me with her, and maybe she can be a bit more fleshed out than just being the girlfriend of Barry Allen. I liked her friendly scene with Iris at the end and that is something we should have more of: let the female characters interact more, form some bonds, and not be kept from each other.
Last, but not the least, what the Zoom, Harry Wells! I'm not buying Harry's decision 100% because I don't think the writers want to give us another version of Wells as an enemy. I believe he is going to be tricking Zoom and work as a double agent, kind of like how Quentin acts as a double agent on Arrow as he tries to take down Damien Darhk from the inside. Overall, aside from my few issues, "Running to Stand Still" was a great episode to end the first half of The Flash's second season with.
The Flash returns with new episodes on Tuesday, Jan. 19, at 8/7c on The CW.
[Photo credit: Katie Yu/The CW]