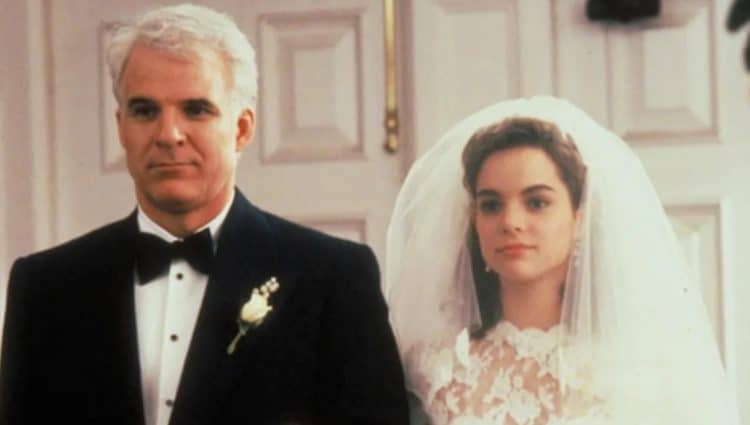 Weddings in movies are almost always bound to go one way or another, kooky as hell or as sentimental as they can get. There's a lot of in-between that goes on, and in the 90s when things were edgy and trying to keep to tradition while still maintaining a kind of new and innovative look, the average movie wedding was still something that was seen as heartfelt and bound to be a moment when tears would be shed and a new beginning would come about with a fair amount of struggle from one individual or another. One has to remember that when a man and woman get married there are a lot of factors to take in, not the least of which is the wedding itself. Some folks are bound to be resistant since those closest to the individuals getting married might not be ready to let go, or those getting married might find it increasingly difficult to go through with it.
Here are the five best wedding movies from the 90s.
5. Honeymoon in Vegas
It's kind of amazing the things a person will do when their back is to the wall and they owe thousands of dollars thanks to a rigged game. But when Jack decides that his wife to be is worth every ounce of trouble and stress he's gone through thus far he goes chasing after her despite the fact that the two of them did agree that she'd spend the weekend with the same gambler he lost the money to. Of course there was a stipulation of no sex, but the gambler somehow convinced her for a moment to marry him, though once they reach Las Vegas she has second thoughts and once Jack skydives into Vegas as one of the Flying Elvis's he wins her back.
4. Runaway Bride
Janet Maslin of The New York Times makes a good point when she likens this movie to Pretty Woman apart from the fact that Julia Roberts didn't need to play a prostitute in this movie. Instead she plays the part of a woman that leaves men at the altar largely because she realizes that they care more about the idealized version of herself that she's created for them than the person she really is. When Ike confronts Maggie about this as he's trying to write a story on her Maggie only becomes increasingly frustrated as she runs away again in order to find out who she really is. By the end of the movie though she and Ike have ended up together and are quite happy.
3. My Best Friend's Wedding
Laura Bradley of Vanity Fair makes a pretty good point that the two main characters in this movie tend to be kind of selfish and aren't really the protagonists at all, but instead are in need of a good dose of reality so as to make them understand the situation and what needs to happen. It might be kind of hard to see Dermot Mulroney as the bad guy in any way since he's the one getting married and he's the one inviting his best friend, who just happens to be a woman, to the wedding. But Cameron Diaz's character is by far the victim at one point since she has no idea just how far Julia Roberts is going to go to make sure that her friend marries her instead.
2. The Wedding Singer
Garin Pirnia of Mental Floss gives up a few interesting facts about The Wedding Singer, but for a lot of us that grew up in the 80s it seems that we can recall a lot of this stuff by memory since to many of us it was and wasn't that long ago. From the hairstyles to the clothing to the idea that marriage was still a stable institution but was quickly becoming less so in some cases this movie was nothing but funny as it went through joke after joke concerning things that had already happened some time ago but were still yet to happen in the movie. For some it might have brought back painful memories but for others it was nothing short of hilarious.
1. Father of the Bride
If you're a father with a daughter or daughters this might give you chills and cause your heart to flutter just a bit since the day is bound to come when your little girl tells you that she's met someone and is thinking of tying the knot with them. That's when a dad's mind might start to wander and wonder just what this will mean for the future. While some dads are entirely on board and supportive of it others might have an issue with watching their little girl grow up suddenly and find it hard to let go of the memory of the child they used to be.
Marriage is something that deserves some thought before rushing into it. MESSAGE!