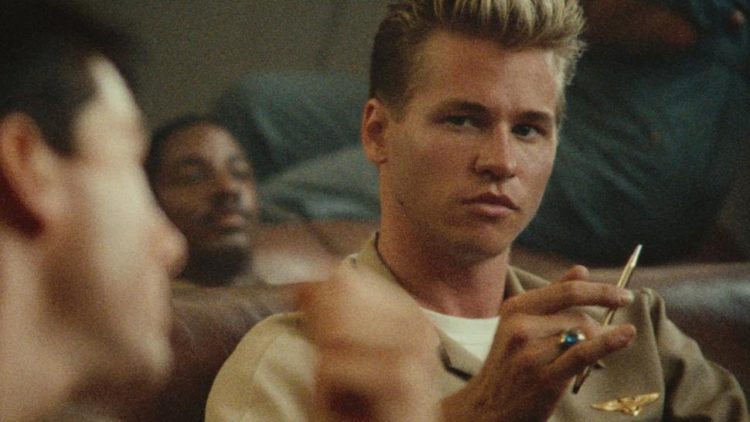 Top Gun is a big mention right now since the new movie coming out supposedly in 2020 is supposed to be something unlike anything we've seen yet, but until then we're left with the great memories we made from the first movie and the soundtrack that helped push it along. Some movies absolutely need their soundtrack, but this movie was actually enhanced by it and would have been awesome without it. Something about flying jets simply appeals to a lot of people and military movies appeal to even more since they do tend to come with a lot of action at times and in this case with some of the hottest starts of the time. Tom Cruise and Val Kilmer were two of the best in the business around this era and brought to the movie a well-designed rivalry that a lot of people still remember fondly.
Here are some of the best songs from the movie.
5. Take My Breath Away
Despite the need for something that was either really sappy or quick-moving the movie still had need of a song or two that was soft, sensuous, and gave a decent look into the more tender side of the movie that a lot of people weren't expecting when it came to something that had to do with fighter jets. One has to remember that beyond the cockpit they're people too with desires and wants that label them as individuals. This song has been used extensively in many movies throughout the years and it's almost been a nice counterbalance to any other songs that have been featured in the same project.
4. Hot Summer Nights
Everyone wanted to be like either Maverick or Iceman at this point and some people would drop hundreds of dollars on glasses and jackets just to get that look. It's a testament to how great the movie was that so many people wanted to emulate it, as Top Gun did manage to change the way a lot of people thought back in this day when it came to the military. You can imagine that those who might have wanted to run out and join the armed forces were a bit bummed when they figured out just what a person has to do to actually get to this level. It's not all about flying and looking good at first after all.
3. You've Lost That Loving Feeling
Wooing a woman in a bar has long been a favored pastime of men that are either too drunk to feel shame or just don't feel it anyway when they meet a woman they really like. It's not something you typically do for just anyone since there's not guarantee that she's going to say yes to anything you want. But at the same time some guys will do it no matter what since they're drunk or getting there or are just brash enough to think that they have a sliver of a chance with the woman they see and want to prove that they can be spontaneous and fun. And then there are the guys that just like to have fun.
2. Lead Me On
Anywhere you go in this world there is bound to be a rivalry of some sort brewing or about to explode at any given moment. In the Top Gun program however the pilots are wound so tightly that it doesn't take much to get them going and the idea of being rivals as well as being on the same side is something you would think might make for a tighter group. But that's not the case at first it would seem since Maverick kind of lives up to his name and does things his own way at times, which is not the way that people want them done. It takes a while but he does learn that in order to get what he wants he has to go along at times.
1. Danger Zone
This is simply the one song that a lot of people think about when mention of this movie comes up. For a while this was one of the most popular songs of the 80s since Top Gun was such a popular movie. Kenny Loggins was undoubtedly one of the more popular artists around for this song. After a while the buzz did die down, and then the spoofs came out, and then word kept milling around that there might be a sequel in the works. And now finally it sounds like we're getting one after so long. It does sound like the delay to the second movie is largely because the production had to take the time to better understand the concept of flight and combat in the modern fighter planes of today.
But yes, eventually in 2020 we will be getting another Top Gun, and you can almost hear people crying out in delight.