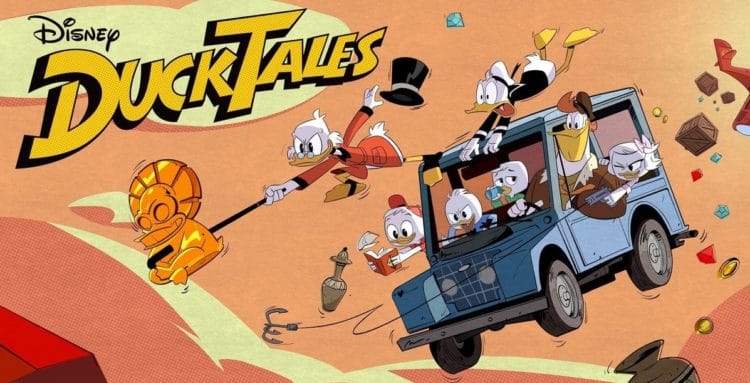 Some folks might look at Ducktales and get all nostalgic for the good old days when they could sit down as a kid and just be entertained by the afternoon block of cartoons that would be faithfully delivered to those that were intent on watching. Then you get guys like Leo Moracchoioli, a music producer and YouTuber will millions of followers that obviously looked at the opening theme song and thought that putting it to metal would be a good idea. Thankfully, he's not wrong, since it's a pretty cool-sounding piece that came out quite nicely and is easy to get into since it packs a lot more punch into the theme and is easy to get down with. It stays faithful to the original theme as well which is awesome since he didn't really miss anything when recreating this. Those that have watched the show, both in the past and currently, would no doubt have to agree in some sense that this was a great performance by someone that looked at what he could do with a childhood favorite and knocked it out of the park. You won't hear it on the show since as much as it's changed, Ducktales still isn't all about hard rock since it's a show for kids and is something that is still considered to be somewhat wholesome and not given over to the harder sounds that might accompany an adult cartoon.
Ducktales has certainly changed from what it used to be, especially since the triplets' mother, Della Duck, was brought into the picture when she wasn't even mentioned that much, if at all, in the original series. Donald Duck is far more present in the current series as well, as though the those running the show figured that the original uncle needed to stick around this time. There's still a lot that's been kept from the original series, but the changes are hard to miss when one pairs the original series with the current one since the attitudes of the triplets, Huey, Dewey, and Louie, are a lot different than they used to be, and Mrs. Beakley is definitely a duck that no one would want to mess with since her current form makes her look like a linebacker and not a pleasantly plump nanny that might be able to butt-slap someone out of the way. Launchpad is still there, as are several other characters, but there are a lot of differences that have come from the advanced development, writing, and storylines that have been given to each character.
As anyone can probably guess, a lot of people are actually stating that the current Ducktales is a lot more entertaining than the original, but that statement is kind of hard to get behind, not because it's untrue, but because we're comparing different time periods since the original series took place in the late 80s, meaning the animation was different, the storyboards were different, and pretty much everything was different enough to the point that it's hard to compare the two. Plus, the idea that there might not be a current Ducktales without the original show is an argument that some people might want to brush off, but the truth of it is that the idea for Ducktales came from somewhere, and it was first realized back in the 80s where it became a part of Disney cartoon block that kids enjoyed watching. To try and compare the two isn't all that fair to either time period since the original deserves a bit of respect for having been there first, and having entertained us in a way that was new and exciting back in the day. The current Ducktales deserves respect since it's taken an old idea and remade it into something that's a lot of fun and even more dynamic since it's taking a few more risks and doing what it can to push the story ahead in a very convincing manner. There have been moments in the current series that might have been deemed too controversial back in the day, to be honest, but as of now, they're not that big of a deal. So really, trying to pin down which version is best is kind of a useless gesture in some ways since for each time period the show has been great, and has done the job it was designed for.
Obviously, it's remained inspirational to a lot of people since Leo took it upon himself to create the video above, which is cool since anytime pop culture inspires something such as this it's more proof that it's important to our society and our culture in some way since it continues to expand our imagination and innovation and makes it possible to think of a future that might exist if we take after the things we've learned. True, pop culture isn't the best teacher all the time, but it's still something that should be given some importance.
Tell us what's wrong with this post? How could we improve it? :)
Let us improve this post!