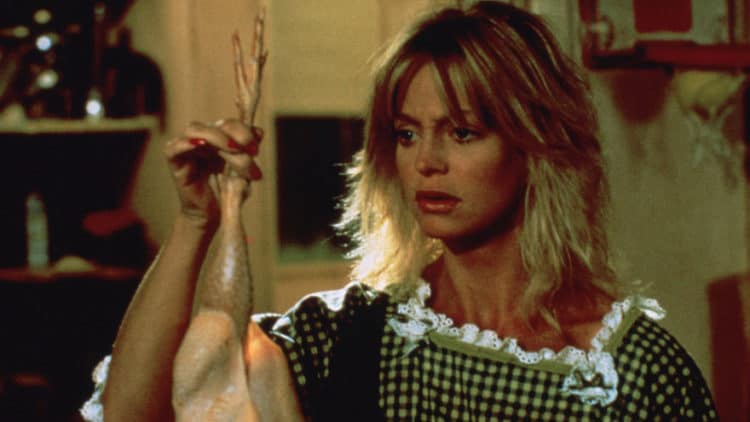 Class, style, and loads of character all three traits that Goldie Hawn has in spades. Since the beginning of her career she's been picking up speed and gaining attention for her beauty as well as her acting ability and throughout her life there have been milestones that she's reached as she's kept moving forward. If anyone remembers she started out as a dancer and was quite good at it, in fact she was a teacher of dance as well and was a go-go dancer at one point. When her career finally got started however she was often seen as the stereotypical dumb blonde, but her comedy routines were golden and her acting ability came along rather quickly. Throughout much of her career she hasn't really been able to shake the whole blonde act, but she's put in such great performances that many audience members will likely remember her more for her acting talent than anything else.
Here are some of her best movies.
5. The Banger Sisters
We all do things in our past, well a lot of us do anyway, that we try out outrun or forget, but Suzette was one of those people that embraced who she was back in the day and kind of never grew out of that persona. Vinnie on the other hand became the perfect housewife, mom, and all around beige-wearing individual that kind of just wanted her life to make sense. When Suzette comes back into her life however and brings up the past she's torn between being the boring mom and wife that everyone thinks is predictable and showing them wild and crazy person she used to be, which her family simply can't believe.
4. Private Benjamin
Sometimes even the rich, spoiled, and entitled want something to believe and when they find it they discover that there are things worth more than just money and a life of luxury. Private Benjamin discovers that she does have a knack for the military but does make a rather rash decision when she decides to fall in love with and leave the military for Henri, a man that she is madly in love with but ends up finding out is far too controlling and is still in love with his ex. When it comes time for their marriage, to which she agreed, she ends up walking out on him at the altar after discovering that she can do anything she wants with her life.
It's extremely dismissive to say that women couldn't coach a football team and in this movie Hawn's character was out to prove that she could do it. The unfortunate part is that she was given one of the worst teams to go and fix, as you might expect, and that they didn't want her there to begin with. Women and football don't exactly mix when it comes to playing with the men, but when you consider them for refs, coaches, even owners, then there's really nothing that they can't do so long as they know what they're doing. A woman can be every bit as tough as a man when it comes to coaching.
2. Bird on a Wire
When Marianne recognizes her ex-fiance, Rick, in a gas station one day she sets into motion a chain of events that ends up changing both of their lives. He was in Witness Protection for his involvement in sending away a corrupt DEA agent and even his handler is out to get him since he works with the agent. Upon returning to confront him and ask where he's been for so long she ends up running away with him as the two agents attempt to gun them down. As they make their way to Rick's old handler they're continually chased by the agents, though when they reach the handler they find out that he has Alzheimer's Disease and can't remember him.
It seems like a lot of people are bound to state that this version of Overboard is the one true movie that people should remember instead of the most recent version that just came out. Joanna was a rich, spoiled, and every entitled person that didn't seem to care for anyone, but when she was found with amnesia and taken into the home of Dean Profitt she got to see how the other half lived, and it wasn't pretty. Yet despite this she learned how to clean, cook, and perform a number of other chores that she never would have done before then. In a big way Dean did her just as much of a favor as she did him in straightening up his home. Yes it was deceitful, but it was hilarious and very needed obviously.
Goldie Hawn is one of the classic stars that people aren't bound to forget about anytime soon.