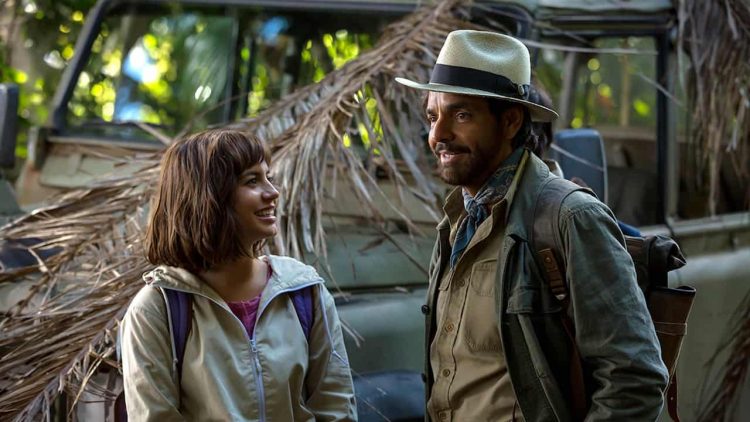 What's funny about Eugenio Derbez, apart from the roles he takes on, is that he's been around for quite some time and it would seem that he's just now gaining a great deal of notoriety in the US. His movies tend to be a little silly when they're made as comedies and he tends to come off as a bit of goof, but that seems to be a big part of his natural charm and he works it to great extent since quite honestly he is a funny guy. It's very easy to overlook him however since he does kind of blend into the background unless he happens to be one of the main characters and takes center stage. In terms of being funny and being well-respected in the industry it's easy to say that yes, he is someone you could easily laugh at and with and want to see more of, but he's also a guy that's easily overshadowed by other actors that are a little more prominent.
Here are his five best movies.
5. Overboard
People were actually freaking out about this movie since the original was so great and the gender swapping that's been going on in movies in recent years has become a little bit irritating at times. But all in all this movie wasn't that bad since it did follow the original for quite a ways through and only changed things up as was needed in order to accommodate the gender swap. In other words instead of sons the single mother had all daughters, and instead of the idea to trick the rich man with amnesia into believing they were married being hers, it was her friend that set her up in this manner. In other words it was the same movie but from the opposite perspective.
4. The Nutcracker and the Four Realms
You've got to love movies that are so detailed and so fantastical yet stick to a plot that is basically quite simple and easy to explain. Clara and her father at odds in the movie and over what seems a rather silly reason, but when she and her siblings receive their gifts she is taken to another realm and informed that the four realms are at war. Unfortunately she ends up unknowingly siding with the real enemy and becomes imprisoned along with the leaders of the other realms. When given the chance however she escapes and eventually sets things right before returning to her father to set her relationship with him right.
3. How to Be a Latin Lover
It would seem there is an expiration date to being a gigolo since eventually the body wears out, a person who's too pampered tends to get a little flabby and unattractive in their old age, and, well, it's time to move on and try to do something else. The only problem with Maximo, among the many, is that he never learned how to do anything for himself and as a result is utterly useless when he grows into an old man. When he takes up with his estranged sister and her son however he at least tries to become a decent human being as he begins to learn how to interact with people and even teach his nephew a thing or two about women.
2. Dora and the Lost City of Gold
A lot of people grew up with Dora the Explorer and it seems as though it was just a matter of time until it became a live-action movie that would take on the same kind of feeling as the cartoon, in a way. Of course when things go live action you have to expect that reality will step in a time or two to kick the butt of any cartoonish feeling that might still linger, even though the animated feel doesn't seem to go away entirely according to the trailers. One thing about Dora the Explorer though is that what might have seemed to be normal in the cartoon is now being cast in real life and it almost seems kind of disturbing in some ways.
1. The Angry Birds 2
There were definitely mixed feelings about the first movie but overall it wasn't really that bad, though it is more of an adult movie to be honest since the themes and the ideas that were used are hard to equate with a kid's film. That being the case though this movie did manage to bring in more elements of the Angry Birds game that has been ongoing for a while and has been a lot of fun for those that have played it since the beginning. The idea of Mighty Eagle having such a sordid past and Red finally admitting that he has an issue were of course big plot points that helped to make this movie what it is.
He's definitely funny, but it's hard to say that he's overwhelmingly popular.
Tell us what's wrong with this post? How could we improve it? :)
Let us improve this post!