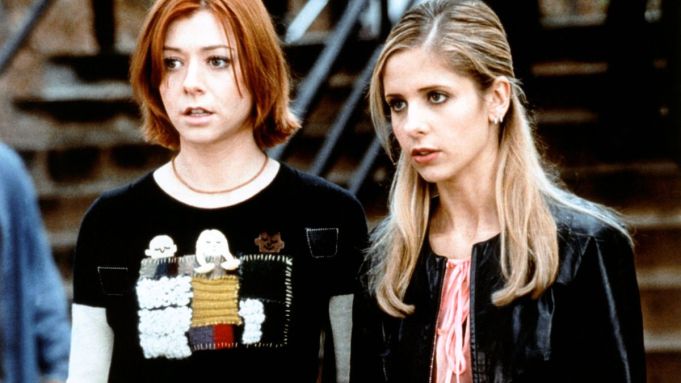 Buffy the Vampire Slayer ran from 1997-2003 with 144 total episodes. Although it cannot be said that every single episode was flawless–"Bad Eggs" and "Where the Wild Things Are" come to mind–this series clearly deserves it's consistent rankings as one of the greatest of all time. Buffy was an amazing supernatural series, but every viewer knows that it was the excellent writing, filled with metaphorical insights about growing up, becoming an adult, and loss, that made the series so great. Lists are always fun, and allow fans to rank the best parts of a wider piece of influential art. With that in mind, here are the 5 absolute best episodes of an unforgettable series.
The Body (Season 5, episode 16)
One of the most striking things about "The Body" is that such an episode was found inside a teen-driven, supernatural drama. This episode is solely about Buffy (Sarah Michelle Gellar) coming home one day to find her beloved mother Joyce dead on the living room couch. Death and grief are the two biggest mysteries of what it means to be a human being. We know that our precious lives come with an expiration date, but the stark reality of death is something that we have to put aside to live our lives to the fullest. Numerous TV series and films have always shown death–but the result is mostly rooted in the effect it has on loved ones left behind from the departed. What Joss Whedon achieves in this one hour of television is perhaps the most blunt and matter-of-fact depiction of death ever seen on the small screen. The episode opens with a touching flashback of Buffy celebrating Christmas with her mother and friends, only to quickly cut to Joyce's lifeless body on the couch, and the unimaginable horror of Buffy trying to come to terms with what she is seeing. She screams, she tries to revive her mom, she speaks to the 911 operator as if this is just another task for the day–anything to not accept the reality of what is happening. It is undoubtedly the greatest episode of Buffy, and one of finest hours of television ever to air.
Hush (Season 4, episode 10)
"Hush" was probably one of the most unique and inventive episodes of Buffy ever. Nearly the entire episode is devoid of dialogue, as a group of demons infiltrate Sunnydale and steal everybody's voice to make it easier to rip their hearts out without hearing screams that would destroy them. Not only is this a fantastic horror story, it is the filmmaking technique and narrative delivery of the episode that is so compelling. When the episode aired in 1999, it was practically unheard of for a showrunner to allow a nearly silent episode to air on network TV, where ratings ruled the day. The ultimate theme of this episode was how we communicate with one another, and specifically how our words and endless babbling and complaining are two traits of a person that make our interpersonal relationships so textbook. When all we have is silence and gestures, we may just find ourselves opening up in ways we long forgot were important. And this aired many years before the rise of social media.
Becoming (Season 2, episodes 21 & 22)
"Becoming" aired as two episodes split in half, but it is really one long episode that closed out the epic, Greek tragedy-inspired second season of the show. This is the episode that saw Buffy come to terms with the fact that she was going to have to kill the love of her life (up to that point), Angel. Angel's cruelty and macabre reign of terror left viewers feeling ambiguous about their feelings of his destruction: we had spent two seasons growing to like him, only to have him turn evil mid-way through season 2. Do we mourn his loss and Buffy's inevitable pain of doing him in or, like Xander, do we cheer on his ultimate demise due to the pain and destruction he recently caused? Buffy ends up fulfilling her duty, and the result for viewers is a feeling of vindication, sadness, and most importantly, a sense of awe at the brilliance of this epic episode.
Seeing Red (Season 6, episode 19)
"Seeing Red" is a divisive episode within the Buffy fandom. There are those who criticize the episode for its dark content–namely an attempt at a sexual assault by one of the main characters, and there are those who accept the visceral darkness depicted in this hour as painful—but brave and audacious in it's willingness to take viewers to such a dark place. The aforementioned attempted rape is problematic no doubt, but a wider analysis of it's inclusion in a season filled with depressing undertones verifies that it isn't something that popped out of nowhere. But the most painful, shocking, and gut-wrenching scene in this bold episode occurs at the end. Willow and Tara are getting dressed for the day after a night of reconciliation and passion–only for a stray bullet to fly through the bedroom window and strike Tara straight through the heart–her lifeless body falls to the floor, and Willow tips over to the point of no return with the dark magic she had worked on trying to suppress. This episode is not pleasant, but it's starkness and bold ability to explore life's darker impulses are unforgettable.
The Gift (Season 5, episode 22)
"The Gift" was both the season 5 finale and the 100th episode of the series. Like "Becoming," this epic season finale was one for the record books in terms of tense drama, adventure, action, and a jaw-dropping climax that emotionally wipes you out. Glory is destroyed (on Earth anyway), but not before unleashing the hell dimension on Earth that she was working towards the entire season. In a moment of courage and selfless humanity which was her hallmark, Buffy sacrifices her own life to save her little sister. When it was eventually announced in the summer of 2001 that the show was returning for a 6th season, fans finally breathed a bit easier.