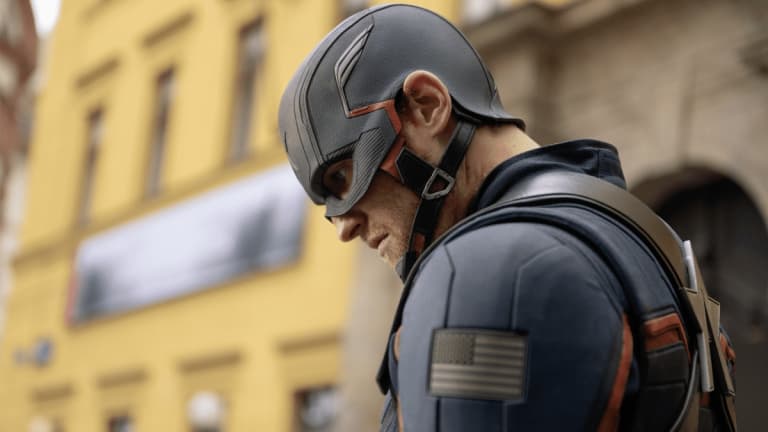 Lines have been crossed in a big way and saying who did what first isn't really important since the crucial thing to think about is that Sam and Bucky were actually trying to talk to Karli Morgenthau while John Walker was stepping in and forcefully attempting to step on toes to do what he felt was right. His buddy, Hoskins, tried his best to tell him that he was indeed the guy, the one holding the shield, but he was also telling him that backing off might be a good idea. Unfortunately backing off isn't what Walker does, and it's never been what he's been known for in the comics either. What we saw in this episode was kind of disturbing really, but it was also a sign of things to come no doubt since to start with, the super soldiers, aka the Flag Smashers, aren't invincible, as Zemo proved when he shot Karli and put her on the run. But the super-soldier serum is more of a problem than a solution, as the idea of striking out against those that seek to bring the world back to the way it was before the blip doesn't sit well with the Flag Smashers, and has caused Karli to become violent and actually kill, which sadly includes Hoskins, who was slammed hard enough to stop his heart, or perhaps crush his sternum.
Before anyone starts feeling sorry for Karli, as she did lose the woman that cared for her when she was alone and is on the run from those that want to subdue her, she has crossed a dangerous line as well, particularly when it came to bringing Sam's family into the mess that rests between them. Many might consider this too personal to let go, and to be real it didn't sit well with Sam either. But he was still willing to talk since he understood, at least in part, how Karli felt. The downside is that John wasn't ready to sit and talk, and Zemo was even less ready as his destruction of the serum that Karli was carrying proved. There are a few conflicting beliefs in play at this moment, and it's more than a little obvious that all of them have an idea they wish to push towards, but at this moment the only one that presents the true problem is that held by Walker, who means well, but is so bent on living up to the legacy of Captain America that he's gone ahead and taken the last vial of serum that wasn't destroyed, and is swiftly becoming unhinged as his actions would suggest. With Hoskins's death things are only going to get worse since the very public execution of one of the Flag Smashers is bound to come back on him swiftly and with heavy ramifications. Despite the difficulties it might have caused, Steve Rogers never killed anyone out of spite, as the mantle of Captain America was kept as clean as it could be most times. Walker just crossed a dangerous line that is bound to force a loss that will eventually bring the shield back to Sam or Bucky.
In the meantime, the Flag Smashers have been shown to be just as strong and as determined as ever, but they've also been shown to be vulnerable to those that know how to fight since, despite their enhanced strength and speed, they're fighting against seasoned veterans and warriors that have taken on creatures from another planet when it comes to Bucky and Sam. The Flag Smashers don't even hold a candle to Thanos' forces, so now that Bucky and Sam know what they're facing, they know how to take the fight to the enemy. The dora milaje is a different matter altogether though since they're not just tough, they're insanely skilled when it comes to hand to hand combat, and unfortunately for Bucky, Ayo, the woman Wakandan guard he's been dealing with, and who helped to free him of Zemo's influence, knows how to detach his metal arm and is quite skilled at it. On top of that, Ayo wants Zemo brought into her custody and is likely to go through Bucky if she has to. It was almost satisfying to see that Walker couldn't even stand up to two of the dora milaje, as he lamented that they weren't even super soldiers and they kicked the hell out of him and Hoskins. But on the other hand, it's kind of a desire to see how far the Wakandan's are going to push this matter until it becomes a true international disaster between one nation and another concerning Zemo.
Things are going to change no doubt in the next episode since the fate of John Walker is going to be up in the air and it's likely that Karli is only going to turn up the heat after watching what amounts to one of her companions being executed in the street.