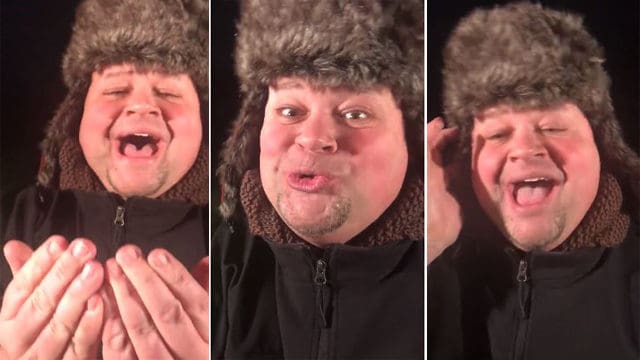 Whether you are a student or a teacher, the news that you are getting a snow day is always met with a smile. However, staff and pupils at Union Pointe Academy in Kentucky had an extra reason to smile as the announcement was made in the form of a video featuring Principal Chad Caddell singing about the closure to the tune of Mariah Carey's 'Hero'. The decision was made to close Union Pointe because of icy conditions on the roads which would have made it very difficult for staff and students to make it to school safely. As is the usual practice, the announcement was made on the schools Facebook page, but this announcement was certainly not like anything anyone had seen before.
The video that Mr. Caddell posted features him in a big hat and thick winter coat. He wrote all the words to the song himself but used the tune of 'Hero'. During the video he belts out the song in a way that Mariah herself would be proud of complete with waving arms and facial expressions. He begins the video by telling the viewers that there is something in his heart that he wants to share with them all. At this point staff and pupils must have wondered what he was going to sing about next.
He then proceeded to sing about the fact that the school would be closed that day. He definitely looked the part singing about the icy conditions that had closed the school in his fur trapper hat and he obviously gave a lot of thought to what he would wear when filming the video. As the song goes on he advises the pupils that they can do back to bed, or go and play outside in the snow or on their X-Boxes if they wish. He recognizes the difficulties that snow days can bring to parents who have to organize childcare, asking parents not to 'punch me in the face'.
Union Pointe Academy will be closed today, Monday, January 8, due to inclement weather. Our principal, Chad Caddell, has a school closing message for parents and students. Stay warm and safe!

Posted by Union Pointe Academy on Monday, January 8, 2018
He filmed the video at home with the help of his wife and has said that he just wanted to bring a little more joy when delivering news that the school would be closed. It was certainly a very unusual way of announcing that the school was closed but it definitely made sure that news about the closure got around. Pupils soon began alerting their friends to the video and there were even instances of the message being passed on by people who do not even attend the school.
The video was also shared on Twitter and soon became a viral sensation. The video was posted with a quote saying this is how school closures are done in Kentucky. The video has been seen by people all over the world and there has been a very positive response. The whole of Kentucky as well as other parts of America have been badly hit by cold weather and this has caused a lot of problems for many people. Seeing videos such as this which bring a bit of fun to the situation goes a long way to lifting people's spirits.
Tell us what's wrong with this post? How could we improve it? :)
Let us improve this post!