After last week's reveal that Lights was going to be fighting again, I thought that he couldn't possibly screw up his life anymore. Well, Lights Out decided that Lights can't just coast to his fight against Death Row. Rather bribery, criminal charges, and increasing health issues are turning Lights into the man no one wants to be.
This episode expanded more on the meeting Lights had with the dentist last week. We all know that he broke the arm of the man, but we had no idea that the dentist decided to press charges until now. I have to say that I was surprised that Lights didn't admit to breaking the man's arm. Yes, criminal charges can put a huge damper on any comeback he wanted to make but, to go as far as lying to the police (and getting his wife to lie) marks a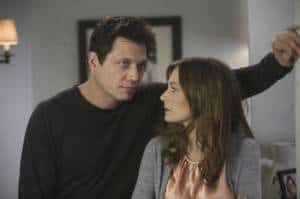 low point in the character of Lights. I'm starting to see that the writers are leading Lights into more of a character devolvement rather than build him up as a hero to the world and us viewers.
This week also brought us a character that I believe will make Lights'life a living hell. Mike Fumosa (Ben Shenkman) is a newspaper reporter who is so interested in getting the story of Lights, that he will do anything just to put Lights in a bad light (sorry that was pretty bad play on words). It's only been one episode but I am already starting to get irritated by Mike. He no doubt will be a hindrance to Lights'career as he continues to be the pest that just won't go away.
I have to say that the end of the episode really sticks out to me. Lights takes a job at a kid's birthday party but, it's more just to bring a bribe to the District Attorney. That's not what really got me to. It was the scene when Lights was introduce to the DA's kid. It was there, we as viewers saw a more human side of Lights. He spoke gently towards the child and even without hesitation gave the kid an autograph boxing glove. It just goes to show that even through all the dirt and grime in a person's life, a more human side can poke its head out once and awhile.
The episode was able to build a bit on last week but with that little development, it felt more that Lights Out coasted to the final minutes. A-
Disagree, agree, or indifferent about my review? Sound off in our comment section below or in our Lights Out message boards here.