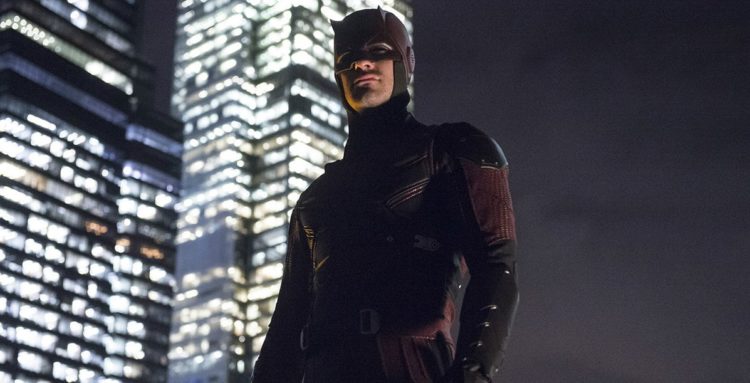 Earlier last week, a teaser trailer for Spiderman: No Way Home was finally realized and the buzz for the next Spidey flick is at an all-time high. As you see in the trailer, there were teases for William Dafoe's Green Goblin and Jamie Foxx's Electro; With Alfred Molina's Dr. Otto Octavius actually greeting Peter Parker. However, some fans have dissected the trailer piece by piece and noticed a particular scene where Parker is seated with an associate and a mysterious man slams a bunch of paperwork in from of the comic book hero. Many speculate that it's Charlie Cox's Matt Murdock from the popular Daredevil series on Netflix.
In 2015, Charlie Cox took over the reins as the latest Daredevil and the series was met with critical acclaim thanks to its bold storytelling, exciting action, and Charlie Cox himself. Growing up in the crime-ridden city of Hell's Kitchen, New York, Daredevil's story begins when the young boy was blinded by a radioactive substance that falls from an out-of-control truck after he pushes a man out of the path of the oncoming vehicle. That radioactive substance also heightens Matt Murdock's senses and the young man was trained by his father, a boxer named Jack Murdock.
The Netflix series would go for three seasons and a mini-series called The Defenders, which saw Luke Cage, Jessica Jones, Iron Fist, and Daredevil team up to protect New York City. Despite the accolades and praises for the outstanding superhero show, Daredevil was officially canceled back in November 2018 after three seasons on the streaming site. Netflix never gave a reason behind scrapping the Marvel/Disney property.
Could it have been the high budget for the comic book series ($200 million was reportedly spent on all four of Marvel's live-action series)? Was it a decline in ratings? Daredevil's viewership took a hit in season three as it reportedly drew less than half the first week's viewership of season two. Or could it be the reason that everyone suspects; With Disney launching their own streaming site, Netflix cut ties with every Marvel-produced property that they had on their service. Whatever their reasoning is, this was officially the end of Charlie Cox's version of Daredevil. So, should Disney Plus cut ties with the Netflix version and start from the beginning with a new actor? From a business perspective, I can understand why the house of mouse would want to disassociate itself from Charlie Cox's version of Daredevil.
While many fans loved the way that Charlie Cox portrayed the blind superhero in the Netflix series, Disney continuing on likely means more subscriptions for Netflix. If they did bring back Charlie Cox for a Disney Plus show, it would make no sense to redo another origin story. Continuity-wise, it would be confusing because the chances that Disney rehires the entire cast from the original Netflix show is slim, thus the newfound characters and Charlie Cox wouldn't mesh well with the timeline. Likely, Disney would bank on Cox's popularity and simply start a new story in the world of Hell's Kitchen. Not everyone has seen the Netflix series and while the likelihood of Disney promoting the first three seasons on Netflix is small, fans might want to play catch up and binge it. Disney is not in the business to help out Netflix.
While the timelines would be messy, Disney could just simply ignore everything that happened on Netflix and restart from scratch. A good majority of the people won't care as long as the show is as good or better than the Netflix original. In terms of whether Netflix should cut ties with Charlie's Cox version, no. There are downsides to bringing him back on board; however, there's more of an upside too. It's important that Disney gets the right actor for the job. Cox has proven that he can handle being the titular superhero and if the machine (Disney executives) backs him properly then there's no doubt that he can become as big as Iron Man, Thor, The Hulk, or Captain America. Kevin Feige is a wise producer and while the Matt Murdock tease could ultimately be a fake-out, the Marvel boss has a strong track record of delivering on the goods.
Where the Daredevil series will go is anyone's guess; however, the property isn't damaged goods like Fantastic Four, thus Disney will take advantage of its hot commodity. Whether Charlie Cox makes his Daredevil return or not, it should be very interesting to see how Disney moves forward with the popular comic book hero.
Tell us what's wrong with this post? How could we improve it? :)
Let us improve this post!