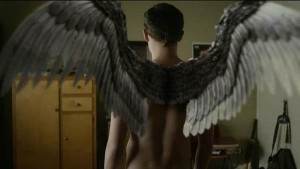 Paul's always had a little trouble in the bedroom. When we first met him his dreams were causing him to wet the bed. Now that he finally got a little action with Jay, just enough to help his self-satisfaction, the poor guy sprouted wings as he ejaculated. That would be difficult to explain now wouldn't it?
Mac's father is the detective chief inspector (or whatever his multi-named title is) working Sarah's missing case. When he was busy tossing Mac across the room in the last episode I didn't even notice we had seen him before. Now we know Mac is not only abused, but abused without an outlet to help. Who would believe him?
Paul has one of the most interesting wardrobes I've ever seen. Are colored jeans in fashion across the pond, or is this one of the quirks of his persona that sets him apart as a geek? I have a pair of reddish jeans from the mid nineties, but I'm not even sure why I bought those.
In an extraordinary piece of awesomeness, Paul raised his hand to Anna and somehow fused her lips together. If ever a girl needed his lips sewn together, it was her. They didn't show how he managed to get them apart, but let's just assume it was using the same 'talk to the hand'maneuver. Whatever it was, I desperately want it!
When Paul decided he could carry on with both of his identities without going underground, he seemed to lose focus of the bigger picture. Neil was injured and desperately needs his help, but he hasn't even told him yet that he believes he can be all things to all people. It became apparent that his plan isn't working when he left Neil and forgot Mac's birthday. When someone tells you they've been waiting all day to hear surprise, how could you not know they were begging not to be Molly Ringwald in 16 Candles?
Paul's visions are no longer self-contained in his dreams. He's taken to dropping to the floor in convulsions and they are more frequent and frenetic. A man is revealed to him, one which bears a striking resemblance to himself. I know that face
Paul finally goes to Neil, and in front of a group of Angelics heals his wounds, including bringing sight back to his eye. He's something special all right, but nobody is sure what the hell that really means.
Mark made contact with Sarah and was arrested for the murder of her and all the others who had gone missing around town. At the same time Helen was ascending into heaven (and we finally see why birds are so important!), Paul got hit by a truck and the weird big bad dead zombie broke out of his pupa – it's a grown up Joe Dempsie (Chris from the original group of Skins kids) – I really did know that face!
The Fades packs a wallop. So much is squished into such a short time frame, leaving you with a desperate hunger for more. To have to wait week by week is torture. A day long event would have been incredibly satisfying to this viewer.
Tell us what's wrong with this post? How could we improve it? :)
Let us improve this post!