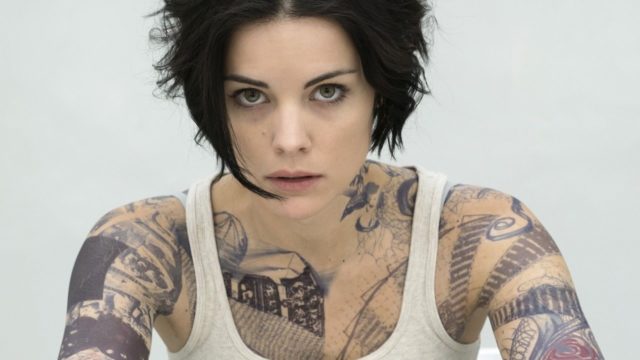 When Blindspot first premiered in 2015, it got our attention right off the bat. Sure, it was dark and more than a little gritty, with those Memento-style memory erasures and fragmented flashbacks. Yet, what really stood out and piqued our interest from the very beginning were those crazy tattoos inked all over leading lady Jaimie Alexander.
They were intricate. They were cryptic. They were interesting enough to convince even the most tattoo-adverse to give the art a second look. Turns out, they were also incredibly difficult and time-consuming to create. While actors usually spend quite a bit of time in the makeup chair before going out under those hot lights, it's usually a full-morning process, but rarely does the appointment carry over into the afternoon.
Unless, of course, you're Mrs. Alexander. At a recent Comic-Con panel, she discussed exactly what goes into creating the art each week, and even if you've never seen a minute of the show (which you definitely should), it's a mind-blowing account that will leave you appreciating the actor and the art more than ever.
First, let's discuss how many tattoos she's actually adorned with. While at some angles it almost looks like one or two vast, continuing designs, it's actually comprised of more than 200 individual ones. As such, it's more work than one artist has the time or materials to usually create, so a team of three works together on the project. They're artists from LA-based Tinsley Studio, who have done similar work on shows including Sons of Anarchy, American Horror Story and HBO's Westworld.
So what does she do for that whole time? Well, it depends on the extent of the project. If there's a scene where only a few parts of her body are showing and a full-body design isn't necessary, it's a far less time-consuming effort (between one and two hours) and she can sit for a majority of the time. At the panel, Alexander joked that there were usually drinks involved for those mini-sessions. However (and this is a big however), when an episode calls for a full-body shot featuring all 200+ designs, she has to stand for the duration (seven-plus hours), during which she explained they simply blast a little Beatles and make the most of it.
If you're raising your eyebrows right now and wondering just how that's even humanly possible, you're not alone. Yet, it's required, as Alexander explained that if she moves around, the designs won't all fit together in the expertly-planned pattern they're designed to.
To determine which designs would make up the look, the Tinsley team spent a week and a half researching. While the main plot centers on that "Kurt Weller" tattoo on her back, the others were a little more difficult to nail down. In keeping with the show's themes of conspiracy and crime, they dove deep into those topics to find historical symbols, stories and trends they could draw upon for inspiration. While that research helped them create the main backbone of the intricate design, they had to make it flexible enough to incorporate new features, shapes, and symbols as the show's plot line continues to develop.
Once she's all tatted up, what happens after shooting wraps? Does she go out in public totally in character? Well, not quite. While the tattoo designs aren't as flimsy and quick to wash off as, say, a kid's temporary one, they do come off in about three days, thanks to a special medical-grade adhesive that's stronger than average. For the specialty tattoos that only show up in UV light, the team uses simple UV cosmetic paint to draw on the designs. The upside to the ink sticking around a little longer than usual? Alexander's time in the makeup chair the next day can be cut short, with the team focusing mainly on touch-ups.
As each episode of Blindspot digs deep into a single tattoo, there's plenty there for future seasons, and lots to keep us guessing. Now that we understand a little more clearly just how much work goes into the application, we'll be looking at the remainder of Season 3 (which returns March 2) with new eyes.