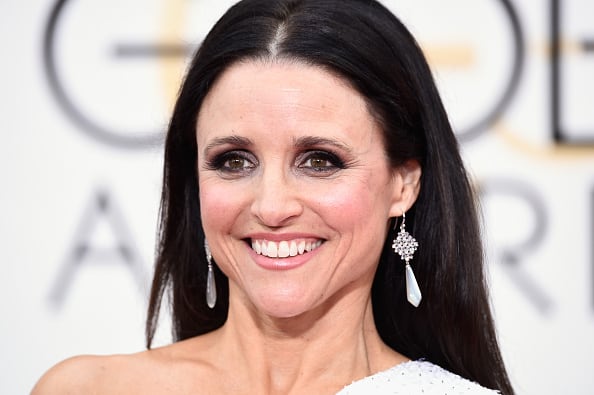 This Sunday is the return of one of HBO's most popular series. Veep will kick off its fourth season with Selina trying to lead our country as the President of the United States. Much of Veep's success stems from the woman who plays Selina. That woman is Julia Louis-Dreyfus, and she been successfully working in show business since the early 1980s. Most actors are lucky enough to star in one successful sitcom in their career on television, and Julia Louis-Dreyfus has been fortunate enough to be featured on four popular series. Not only is she currently on Veep, but Louis-Dreyfus was also a star player on Saturday Night Live for three seasons, spent nine seasons on NBC's Seinfeld, and appeared for five seasons on the CBS comedy The New Adventures of Old Christine. Let us take a look back at Julia Louis-Dreyfus' amazing career on television, which dates back all the way to 1982.
The Saturday Night Live Years (1982-1985)
Julia Louis Dreyfus graduated from from the Holton-Arms School in Maryland in 1979 and then ventured off to Northwestern University in Illinois to study theater. She would eventually drop out of school prior to graduating after she was offered a role on the late-night sketch comedy show Saturday Night Live. Prior to that, Louis-Dreyfus was a member of the improvisational theater group The Second City. Other notable alumni include Tina Fey, Amy Poehler, and Steve Carell.
Louis-Dreyfus made her debut on Saturday Night Live on September 25, 1982. At the age of 21, she was the youngest female performer to have ever appeared on the series at that time. Louis-Dreyfus would stay with Saturday Night Live for three years and leave the series in 1985, when Dick Ebersol vacated his role as producer after NBC nixed the idea of not making all the sketches live. In a recent interview with Entertainment Weekly, Louis-Dreyfus admitted that she was miserable during this time, as the SNL environment was very cut-throat and many of the cast members were using drugs backstage.
Before Seinfeld (1985-1989)
After her exit from Saturday Night Live, Julia Louis-Dreyfus starred in several feature films. In 1986, she appeared in Troll, Soul Man, and Hannah and Her Sisters. That same year, she would star in the made for television movie The Art of Being Nick. Two years later, Louis-Dreyfus would guest-star on Family Ties. That same year, she would score the role of Eileen on the comedy Day by Day, which also starred Courtney Throne-Smith. The series was about a couple that gave up their high-powered jobs to run a day care center. The series would survive for two seasons before being cancelled. In 1989, Louis-Dreyfus would make a memorable appearance in the film Christmas Vacation as Margo, but in 1990, she would get a job that would change her life forever, thanks to a friend she met during her Saturday Night Live days.
The Seinfeld Years (1990-1998)
That friend was Larry David, who worked on Saturday Night Live during the 1984-1985 season. When Seinfeld was originally pitched to the network, the character of Elaine Benes had not even been created yet. When NBC saw the first episode, they thought the series could use a female lead character and would not pick up the series unless this change was made. Julia Louis-Dreyfus would beat out Megan Mullally and Patricia Heaton to win the role of Elaine.
Louis-Dreyfus would receive numerous awards for her work on the comedy, including a Golden Globe in 1994, an Emmy in 1996, five American Comedy Awards, and several Screen Actors Guild awards. Seinfeld would conclude in May 1998, and the series finale was watched by over 76 million people.
The Seinfeld Curse Years (1998-2006)
When Seinfeld concluded in 1998, Julia Louis-Dreyfus would lend her voice talents to two films: A Bug's Life in 1998 and Animal Farm in 1999. She would also appear in the TV film Geppetto that starred Drew Carey in the title role. Many people speculated that the three supporting actors of Seinfeld were cursed after the series ended because they were unable to star in a television project that was not cancelled after one season. Jason Alexander tried with Bob Patterson in 2001 and Listen Up in 2004, while Michael Richards failed with The Michael Richards Show in 2000. In 2002, Louis-Dreyfus tried to break the curse with Watching Ellie; however, the show was cancelled after 17 episodes.
The New Adventures of Old Christine (2006-2010)
Thankfully, Julia Louis-Dreyfus was able to break the curse with the successful comedy series The New Adventures of Old Christine, which premiered in March 2006 on CBS. The series was an instant success for the network. The first season would average 12.5 million viewers, and Louis-Dreyfus would receive an Emmy for her work on the show. Season 2 would also deliver strong ratings and average around 11.7 million viewers. Season 3 saw a slight dip in ratings, but the show was still delivering high enough numbers for it to be renewed for another season after the Writers' Strike cut its episode order down to only 10 episodes. When the show returned for a fourth season, it was moved to Wednesday nights, and viewership dropped drastically. The New Adventures of Old Christine would conclude in 2010 after 5 seasons and 88 episodes worth of laughs. ABC was interested in obtaining the series if CBS decided to cancel it; however, this never came to fruition.
Veep (2012-Present)
It would only take two more years before Julia Louis-Dreyfus would find her next successful television project. The first season of Veep premiered on HBO on April 22, 2012 and was loved by critics from the very beginning. The fourth season will premiere on this Sunday, April 12, and it will consist of ten episodes. The series also stars Anna Chlumsky and Tony Hale. Louis-Dreyfus has received three Emmy wins for her portrayal of Selina Meyer, the Vice President turned POTUS, making her just the second actress in history to win an Emmy for playing a regular role on three different series. The first was Tyne Daly for her work on Cagney & Lacey, Christy, and Judging Amy.
Which character that Julia Louis-Dreyfus has played during her career has been your favorite? Let us know in the comments section below.
Photo by Frazer Harrison/Getty Images
Tell us what's wrong with this post? How could we improve it? :)
Let us improve this post!