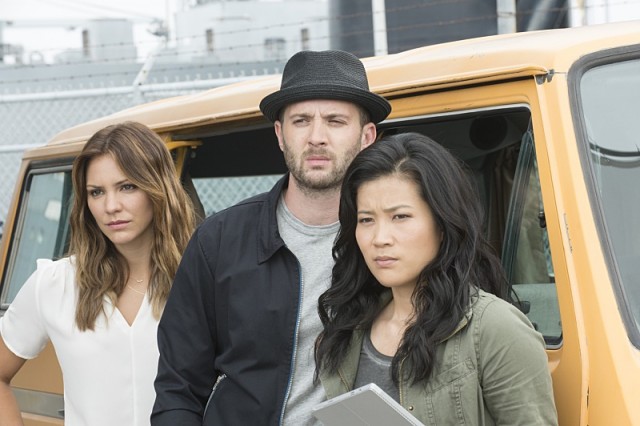 Team Scorpion goes undercover as characters from Sylvester's favorite comic book, Super Fun Guy, to locate and disarm a nuclear missile that's going up for sale in the rogue nation of Kazakhstan in this week's heroic episode of Scorpion. Sylvester channeled his inner fanboy when Deputy Homeland Director Cooper handed them the case files containing their undercover identities, but the human calculator decided to sit out at the last minute when Megan called, saying that her deep brain stimulation procedure had been moved from Wednesday to tomorrow night. Remembering Megan's words from before about not telling anyone (especially Walter) about her upcoming procedure, Sylvester had no choice but to stay behind.
I could tell that Sylvester really wanted to be in Kazakhstan with the rest of the team as he is a huge Super Fun Guy fan, but it's a good thing that he chose to stay behind. Not only could he be there for Megan when she woke up from her procedure, but he also got to NATO (the government association, not the National Association of Theatre Owners) and was also able to send a helicopter to get the rest of the team home safely. I still can't believe that there are two NATOs, and Ray got Sylvester to the wrong one. I was confused when Sly wouldn't use his phone to look up the other NATO's address, but given that he was riding on the back of Happy's motorcycle, hanging on for dear life, he had no time to pull out his phone.
The scene where the remaining members of Team Scorpion came out wearing the costumes of each of the characters in Super Fun Guy, Zany Zoe, The Giggler, Whimsical Boy, and Patty Prankenstein, made me laugh out loud. They all had the same thought when they saw each other in their respective costumes: it was extremely awkward. Also, when the captured fake location scout said, "I can't believe I got caught by you people," it made me laugh even harder. I said it before and I'll say it again, I love a show that knows how to combine drama and comedy, and Scorpion does that perfectly.
The other scene that I liked was when the fake location scout had a gun pointed at Paige's temple, and Walter used the light on his camera to temporarily blind the guy as Agent Gallo tackled him to the ground. Happy took the words right out of my mouth when she said, "Nice tackle, boss".
Bringing things back to the mission, I couldn't believe it when Toby unknowingly dropped a couple of screws into the nitric acid jar when Walter tried to extract the uranium semi spheres and produced laughing gas that sent the shrink into a laughing fit, alerting the thugs in the next room. #Busted. Thankfully, they were able to get away and fire the missile into an abandoned mine before the thugs caught up with them.
This was yet another awesome episode of Scorpion. I enjoyed watching every minute of it, and my heart went out to Walter when he asked Sylvester about Superman and Lois Lane after Paige just compared her and him to the iconic couple. The human calculator told Walter that saving the world can get in the way of life, which might indirectly mean that if Walter and Paige were to pursue a relationship, then it might get in the way of their professional relationship as they save the world from peril. I'm hoping against hope that it won't come to that, but I can't predict the future.
[Photo credit: Neil Jacobs/CBS]