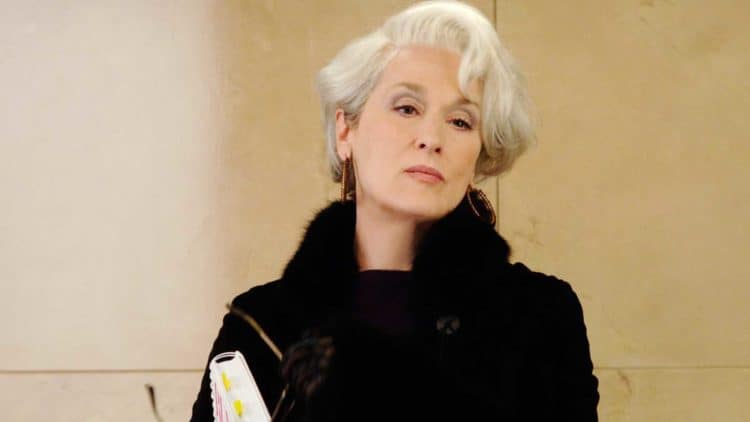 A girl dressed in oversized slacks and sweaters from Kohls schedules a rendezvous with a Runway magazine editor and fashion icon: this explains the film in a nutshell. Andy Sachs, the former, is a college graduate who does not seem to know her cerulean from her blue, but she has more determination than is conceivable for a recent graduate. Miranda Priestly, the latter, is a diabolical industry influence and a difficult to please person.
Meryl Streep starred when this classic film hit the screens for the first time in 2006; she was playing the Miranda Priestly character. Anne Hathaway, on the other hand, played as Andy Sachs. The film has a supporting cast worth writing a piece or two about: including Simon Baker, Stanley Tucci, and Emily Blunt. Meryl Streep earned a London Film Critics' Circle Award, a Satellite Award, National Society of Film Critics Award, and a Golden Globe. Naturally tied to this character, it is impossible to picture any other person apart from Streep playing the role; even so, this has not stopped critics and fans alike from devising their dream casts.
With no word whatsoever on who is set to play a role in the new show, let us hope that Streep will reprise her character. Let us say that it is good to know how impressive she can be, especially while playing musically-inclined characters.
The Devil Wears Prada is Apparently Coming Back as a Musical
Elton John shall be composing the score. Even without more detail, you can easily tell that the film on Broadway is likely going to be an articulate and fast-paced rock ballad musical. Elton John promises to bring an unbeatable fervor to his musical works. He is famous for producing the songs behind The Lion King, and Aida — the Tony Award-winning film, among others. Alongside Elton John, Shaina Taub will also be working round the clock as the film's production lyricist. Shaina Taub is a well-known American composer, musician, and singer. She is highly regarded for starring in and composing a few adaptations of Shakespearean works: As You Like It, and Twelfth Night (2016 and 2018).
According to Playbill, Kevin McCollum is in charge of the show's production. Kevin McCollum, a man behind a few well-done Broadway musicals, is highly regarded to after his production works in Motown the Musical and Something Rotten! While being interviewed by the Chicago Tribune, Kevin McCollum claimed that the pre-Broadway city choice of Chicago was not an accident. This is because it was very important to Anna for the show to premiere in the Windy City. With that information, he declined to confirm any dates or where exactly the show will play in Chicago. Even so, he did not mention when the show is expected to transfer to New York.
Paul Rudnick will be working beside Taub and John in creating story elements. This is because transforming a film into a musical show takes more than just adding some lyrics and a score, and Rudnick is the most suitable man, and most accomplished writer need to make this transition as seamless as possible. Paul Rudnick has written before for award-winning films, such as The Most Fabulous Story Ever Told, I Shudder, and Hate Hamlet.
Who Will Cast in the Film on Broadway?
Casting has not been announced yet. This means that fans can start to speculate who will play the roles of Miranda Priestly and Andy Sachs. Additionally, there is the little matter of which of the movie's most significant moments will get a song assigned to them. Arguably, Miranda's 'stuff' speech the Gird your Loins entrance seem to be obvious shoo-ins. Which other parts deserve a song; does 'Florals for Spring' get a song? Once the musical crosses over to New York, will it do so with the cast stars of Harry Potter? Hopefully, these questions will be answered soon, before the show premiers in Chicago in 2020.
The show is still lacking an integral team of creative members and a production timeline. Therefore, it seems like the casting stars for the film 'The Devils Wears Prada' may not come soon. However, it would be helpful if you considered that all the other original stars pride in impressive musical skills. There might be a slight chance that the three original ladies in the initial movie — Blunt, Streep, and Hathaway, will make a comeback for the musical adaptation.
Recently, Emily Blunt starred as the icon in the film 'Mary Poppins Returns.' Through this experience, she successfully followed in the footsteps of Julie Andrews. Anne Hathaway, on the other hand, earned an Oscar for her role in Les Miserables. Let us also not forget the incomparable Meryl Streep who has starred in many musical movies in the last ten years alone: Ricki and the Flash, Into the Woods, Mamma Mia, Here We Go Again, and Mary Poppins Returns. While it seems very unlikely that all three of them will make a comeback for the musical version, we cannot rule out the chance of seeing at least one of them.
The House of Mouse Effect
Up until early 2019, the movie rights belonged to Fox given that Fox 2000 Pictures were the initial producers of the show. In 2019, the Disney merger closed, and the movie suddenly became a property of the House of Mouse. Disney prides in a lot of household name recognition and a massive fan base. Even more, picture this: what is Disney good at, if not musicals. Not to say that the musical was a direct result of the agreement to merge since it has long been gestating, but the timing seems to be unusually perfect in this regard. Anyway, the Devil Wears Prada movie is heading straight to a pre-Broadway engagement in 2020. The show will boast of a powerhouse team behind it. For instance, Anna D Shapiro, the Tony Winner and artistic director of the Steppenwolf Theatre Company, is poised to direct it.
Tell us what's wrong with this post? How could we improve it? :)
Let us improve this post!