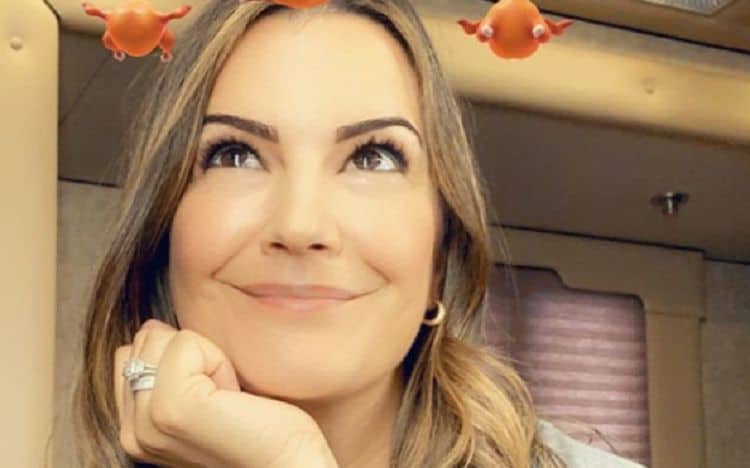 Natalia Cigliuti is a jack of all trades; she embodies the typical go-getter 21st-century woman with ambitions to flourish in all her endeavors. The sensational model and television personality is not a new face to many. You may know her from her colorful television career or her budding social media profile, where she keeps her fans on the watch on her routine activities, but there is more to Natalia's life than you know. Below are some details that you would probably find intriguing to learn.
1. She learned English while in school
Natalia Cigliuti was born in Uruguay, on September 6th, 1978. The family later migrated to New York USA, where she was raised along with her two siblings. By then, she could only communicate in Spanish but learned English when she joined school in the USA. She later joined Crescenta Valley High School after they moved to La Crescenta, California.
2. Her net worth
For someone whose professional career started at the age of 14, Natalia has managed to accumulate a substantial amount of wealth. Although the salary she gets from her various film and television roles is undisclosed, the actress has so far amassed $5 million according to Puzzups.
3. Her marital life
Natalia was not so fortunate in her first marriage. She was first married to Rob Rizzo on June 24th, 2004. Rizzo worked for the National Association for Stock Car Auto Racing. Later in 2013, they divorced, leaving her with a son, Kaden. The fact that her first marriage was rocky and ended in turmoil didn't stop her from finding a second match made in heaven. At the moment, Natalia is married to Matt Passmore, a 46-year old Australian actor. The two met at a party organized by a mutual friend. In 2016 Natalia and Matt got married in a small ceremony attended by close family and friends.
4. Her husband is also a divorcee
Getting your soulmate is not easy, and sometimes even when we do find that person that melts our sorrows, we mess it up. That was the case with Matt's marriage to Jacqui, maybe it was the adrenaline rush to settle down since he was only 25, but after only eight years of marriage they went their separate ways, at first Matt did not reveal the grounds for divorce. However, he later confessed he was unfaithful to Jacqui.
5. She is a doting mother
Motherhood is the greatest gift for most women; also, they say love that comes with parenthood is what brings people closer. Natalia and Matt are lucky to have Kaden that is the cherry on top of their marriage cake. For the most part, Natalia posts cute pictures of him and other proud moments that the world deserves to see. She has been the pillar in his life, supporting his choices. Kaden plays baseball, and Natalia has taken him to many games since he was a little boy.
6. Natalia's social media
Natalia has above 4K followers on Instagram and 2.5K followers on her Twitter account. Most of her posts are about her family moments with her husband Matt and her son, Kaden with a few red carpet moments for a movie's premiere with Matt and Kaden's baseball games. She shows an outstanding commitment to keeping her followers abreast about her personal and professional lives. Besides engaging her fans in her life, she uses her social network platforms to make money from promotions and sponsored posts.
7. Her hobbies
Natalia's life seems to be hectic as she tries to balance her work, family and social life. Still, she spares time to do the things she loves, top of the list being zip-lining. She and her husband Matt, went zip-lining on their second anniversary. Besides, Natalia loves traveling and has visited places like Newport in Rhode Island, Paris, and other international destinations. She also does not mind a glass of wine, and when they visited Dublin in Ireland, they went drinking at a whiskey bar.
8. Why she got renounced from AMC
Most people only imagine landing acting deals with top television networks such as AMC. However, some people had worse experiences when they got a contract only for it to be taken away. In 2004, Natalia got an opportunity on The AMC channel and worked in a series called "All of My Children" playing Anita Santos for two years. Afterwards, in March 2006, Natalia was let go by the AMC Network because of declining some of the storylines she had gotten. Later, she was lucky to get another job on the show, "Raising the Bar," which was a series for the Turner Network Television.
9. She is multi-talented
Natalia started her television career when she was doing commercials. She then played the role of the character, Lindsay Warner in 1993- 1995, where she was the main character for the comedy series "Saved by The Bell: The New Class." Later she was then exposed to many TV shows, which included "90210: Beverly Hills" in 1997, "Raising the Bar," "That '70s Show", "The Preacher's Mistress," "All My Children," "CSI: Miami," "Danni Lowinski," and many others. Natalia has also been in several movies such as "Simon Sez," "Held Up," "Reality Check," "Kill Speed," "What Happens Next," "Joe Dirt 2: Beautiful Loser", "Traded," and "Drunk Parents." Further, Natalia has also been a host for, "Live at the Bike" which is a show where people play poker and cash games. Her modeling experience has seen her grace the covers of some magazines like the Latino Future. She has also been featured in Estylo.
10. Her zodiac sign
Natalia is a Virgo and lives up to the traits of those who fall under it. She is nurturing and loves being a mother to his son and wife to her husband. Furthermore, Natalia is supportive of her son's dreams by attending his games and supports her husband by being at his side during his movie premieres. Moreover, Natalia is modest and humble, which has drawn a lot of people to her.
Tell us what's wrong with this post? How could we improve it? :)
Let us improve this post!