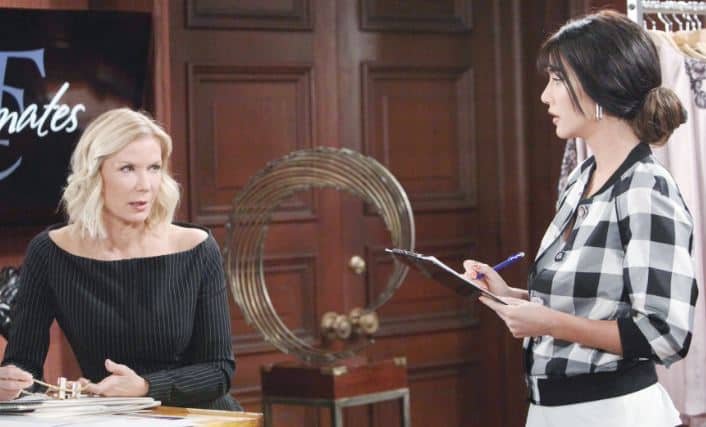 The Bold and the Beautiful fans know that Brooke cannot make a decision. It's not something that's foreign to her, either. She's torn. Now that Bill knows what her own husband did to make sure that he did not get custody of his son by bribing the judge, she doesn't know if she should tell him the truth about it after he confronted her or if she should just let it go and move on from it. We aren't sure what she might do with this news, either. She's a mess, and there is very little we can do about any of that. She's not in a good place at all, and we cannot figure out if she's making a mess by staying quiet about it or not. Personally, we feel that she needs to back up her husband the entire way. She's his wife, which makes them a team. However, we also know that she's not much of a team player in any capacity. That's where we feel that things will not work out for her.
But we also saw that Emma caught her boyfriend flirting with Zoe, and she didn't like it. It really doesn't help her feelings when they are both dressed in the lingerie that they are modeling for the big show, and she's not sure how to feel. Not only is he working with his ex and the woman who clearly wants him back, he has to work with her regularly dressed in almost nothing. That's not good news for anyone, and we cannot help but wonder if there is anything that will work for them in any capacity. There's too much going on here that might make everyone feel a little uncomfortable, and we love every bit of that. It's good for us to see this all happening, but Emma is going to break.
What's Happening on The Bold and the Beautiful
Should Brooke tell Bill the truth? #BoldandBeautiful

— Bold & The Beautiful (@BandB_CBS) November 6, 2018
Um, no. Again, she needs to mind her own business, take her husband's side, or just stay out of it altogether. She is not loyal to Bill. She is loyal to her husband, and that is that. She has no other issue with any of this, so she needs to let it go and move on.
What's Next on the Bold and the Beautiful
Brace yourself for one showstopping week on #BoldandBeautiful! 👏 Tune in all week long to see what happens. pic.twitter.com/RqgWzQa8Qq

— Bold & The Beautiful (@BandB_CBS) November 4, 2018
Ridge is tired of his wife spending all this time with her ex. He's not happy that she sees Bill and spends so much time with him, and he's not sure he can handle it when she says she wants to work on their marriage and then goes and spends all this time with him. He's finally going to open up to her and ask her to just take it easy. Give up on all this, make it a point to spend more time with him, and just stop with all this nonsense. He's not able to sit back and enjoy his own life knowing that she is always out there with him. And he's asking her to stop — but we have no idea if she will or not. There's not much she can do in this capacity, but we do wonder if there is anything that will work if he asks.
We will also see that that Steffy is modeling in her own line, and that's what she feels good about right now. She's in the most stunning piece from the lingerie collection, which will obviously remind Liam of what he lost, make Leo feel very excited about his life, and it will upset Hope in every manner possible. She never feels that she can win in any way when it comes to them and their very long history of life and loving one another. It's not her place to sit back and let this happen in her marriage, though, and she could say something.
Stay tuned for more The Bold and the Beautiful and be sure to check out TVOvermind daily for the latest The Bold and the Beautiful spoilers, news, and updates.