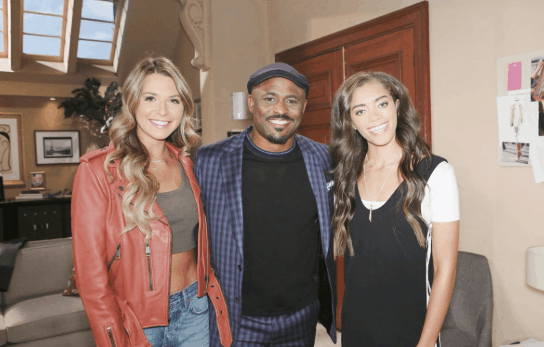 The Bold and the Beautiful fans are not too surprised when things don't work out, and that's because we are accustomed to the disappointment we feel from time to time. We are constantly worried our favorite people will not work out. We are constantly worried that things will not work for them. And we are always worried about people figuring out their own lives are not the ones they want to be living. We are so sad when people don't get what they want, but we are even sadder when we don't get what we want as fans. That makes it easy for us to come up with a list of the different things that disappoint us so much in this year. Here they are. Our biggest disappointments in 2019.
Sally and Wyatt
Nothing is as sad or disappointing as this. They are the couple we want to see together. They are the ones we want to see make a go of it. They are the couple we want to see fix their love and be married and have kids and be happy and actually make it work without any of the drama that their families bring to the table. There was a hot minute when we thought they might be able to pull that one off, too, but then his mother got involved. She told Wyatt that Sally was too much into Thomas, whom she was not into but merely advising. Then she told him that she wanted to see him with the girl he dated in high school, and then it worked out for them. We aren't happy about it, but we do hope that they can find a way to change their minds and their hearts and make it work in their own lives.
Hope and Liam
There was a time when we didn't want to see them together, and we still don't. But, what makes us sad is what happened to their baby and how long this situation is going on. There is so much that they are missing out on because Flo and Zoe won't tell them the truth, and we hate that for Hope and Liam. We hate that they are going out of their way to end their marriage and be totally miserable all because someone else made a poor choice and they were given a horrible situation to make light of. We aren't fans of that, and we do not love it. We don't love that they have this situation to bother with, and we don't love that they have so much animosity because they feel that their lives aren't worth living to the fullest any longer. Their baby is not dead, but no one will tell them this. It's too much for all of us to handle, and it's disappointing how long this story line continues to go on. We want more from this.
Steffy's Baby
On the flip side, we've been loving Steffy the past six months or so. Ever since she took herself out of the running to be the woman Liam was married to, she's been a Rockstar. She's not going to sit back and wait on things to go her way and to make things work in her favor, but she is going to be there for those who need her the most. She's going to be there for her family, and she's going to be there for her daughters. But, one of those babies is not her own baby. She adopted this baby she named after her own twin sister, and this baby is not hers to keep. She will not have much else to go on after this, but she will not know what to do when it finally comes out that her baby is not her baby. When she finds out that she belongs to Hope and Liam, it will crush her in ways that will not be good enough for her to deal with. She will not be able to focus on anything other than her own heartbreak, and we are sad to see that coming in the near future. Her strength might to extend that far.
Tell us what's wrong with this post? How could we improve it? :)
Let us improve this post!