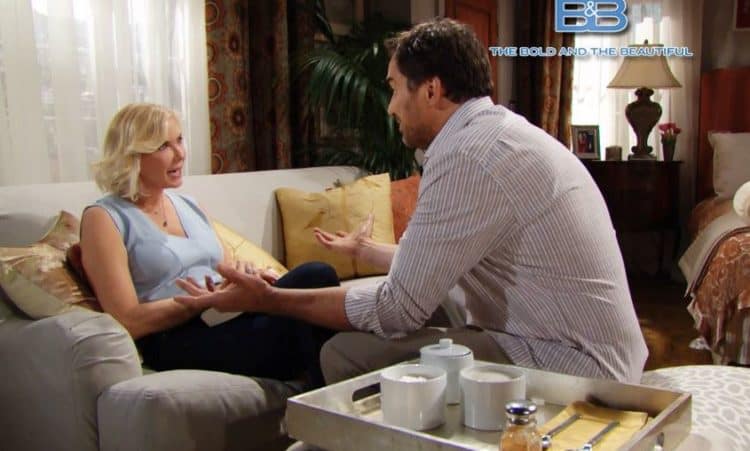 The Bold and the Beautiful fans aren't entirely convinced that Bill will ever give up this sick game of taking his son's baby mama from him. We saw him make her yet another offer to be together by telling her that he's basically the only man for her, and that's just not something we are on board with. He needs to get over himself, but we are not sure he can handle that kind of situation. Right now he has to get his life together, and it's something he can't do until he finds something else to move on with or for. And we think that he has to figure that out on his own. Right now, he has to let this go. She told him he's selfish and a jerk, but he won't listen to her even if he claims that she's the most important person.
We also saw Maya go out of her way to tell Xander to steer as clear of Emma as possible. There is not much she can to do get him to listen, but she wants to be very clear with everyone that she suspects Emma is not someone they can trust. She's already fired her, she's already had words with Hope about her, and she's now making it her mission to get as far into this girl's way as she can. Xander might not listen to her, but that won't stop Maya from doing everything in her power to be sure no one is taken advantage of by her. She's going to be sure everyone knows what she caught her doing, all while trying to figure out what else is going on with her. She knows it's something, but she's going to make sure she gets to the true bottom of it before much longer.
What's Happening on The Bold and the Beautiful
So many years and so much love. 💕 What's your favorite #Steam moment? #TBT #BoldandtheBeautiful pic.twitter.com/q7owvMoRPr

— Bold & The Beautiful (@BandB_CBS) June 21, 2018
Bold fans are so happy to see Liam and Steffy back together following the birth of their baby that the show is just showing off for everyone. What is your favorite moment from their long and complicated history together? Check out a few of these amazing photos so you can see which ones are going to make the cut. What do you feel is the best moment between them? They've had a lot, but the birth of their little girl might just go down in history as the best moment in their entire life story.
What's Next on the Bold and the Beautiful
TODAY: Steffy pleads for Bill to stop his delusions about marrying her. #BoldandBeautiful pic.twitter.com/xx6Qu9ad5L

— Bold & The Beautiful (@BandB_CBS) June 21, 2018
Taylor has some things to say to her daughter, and they all have to do with her worst fears. She's got a lot on her plate and on her mind at this point, and she seems to worry for her daughter. Is there a chance she might worry there is more to this story than she's aware of? Is there a chance she might worry that her daughter has more to worry about than they thought in the past? There's a good chance they might have a situation on their hands with Liam, but that won't show up yet. Taylor is merely worried her daughter will end up hurt and upset, and that's a valid point. She's got a baby now, a man who goes back and forth on commitment, and Brooke is still upset about Hope and probably won't let this go.
But our problem is that she's going to share all these fears with Steffy, who really isn't in the best place to have to hear these things at this point. She might not want to talk about this, but we imagine she can't keep it to herself. Hope also wants to get herself back into her charity, and she'd like to make sure that Liam comes with her to join the program. We don't think he should, but she's got the audacity to ask him to do it. And we think Steffy might have a small problem with that. Hope should know better, but it's clear to us she either doesn't care or realize.
Stay tuned for more The Bold and the Beautiful and be sure to check out TVOvermind daily for the latest The Bold and the Beautiful spoilers, news, and updates.