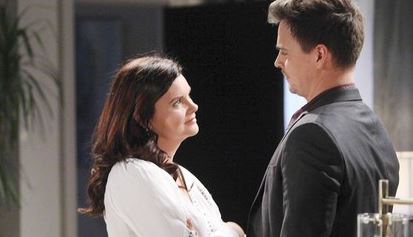 The Bold and the Beautiful fans know that things are heating up between Katie and Thorne, even if she's unaware of what is happening with them. She might not realize that things are progressing for her and her sister's brother-in-law, but that's what is happening, and he is playing her right where he wants her. We aren't sure he's aware, just yet, of what is happening between Katie and Wyatt — but we also don't think that it will take him much longer to figure that out.
He seems to believe that he can make some moves on Katie and it might help him win his brother's new wife. It's not going to work, of course, but there is nothing that he won't try to get her into his life. He wants Brooke, and he is not above using Katie to get to her. Katie, of course, is just as flattered as possible by all his attention. What wouldn't be nice about a handsome man of her own age paying her such close attention?
She has absolutely no idea that he is only using her and that this is not what it seems for her. And he won't hesitate to hurt her or use her or make her an example if he has a chance. He's not going to worry about her feelings, but she should consider worrying about her own feelings. He's going to hurt her, and we have a feeling that this will be the end of her and Wyatt.