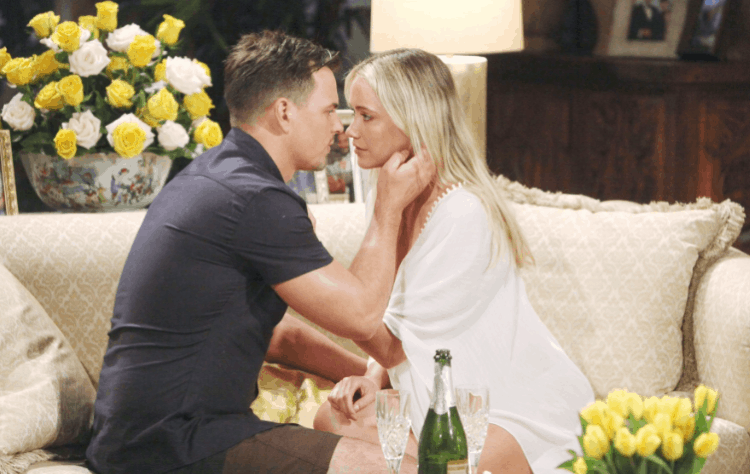 The Bold and the Beautiful fans were so sad when we all watched the moment between Hope and Liam when their lives changed forever. They spoke about the many hopes and dreams that they had for their child, and her life. They spoke of what they wanted from their family, how they envisioned their lives, and what they thought might happen when they finally made their situation a better one, and that was all there was to it. We are just so sad for all of them now that they aren't getting any of that, but we cannot help but feel heartbroken for them knowing that their baby is alive and well and that she is right there in their lives. She's right there with Liam as her own father because he's agreed to be a father to both of those girls. And Hope holds her own baby regularly without even knowing it.
There's so much sadness for them, but Wyatt is not one who seems to be very sad. He seems to have gotten over his own heartbreak of ending his relationship with Sally by moving on immediately with Flo. They finally did the deed, and they are enjoying their time alone in the mansion together. They seem to have it all figured out in their lives, and they seem to have a big go of their future. But, fans aren't happy about it. We know she's a liar and a thief and the cause of so much heartbreak around LA right now, and she has to go. We love Sally, and we cannot figure out why they cannot be together and why they cannot find things in their own lives that work for them. We don't like this, and it does make us feel so sad. We want Sally back.
What's Happening on The Bold and the Beautiful
Our #WCW is the stunning @KatrinaKBowden! Leave her a 💙 to show her some #BoldandBeautiful love on this post! pic.twitter.com/tQEs1M1wD1

— Bold & The Beautiful (@BandB_CBS) May 29, 2019
Love her or hate her, she's here to stay.
What's Next on the Bold and the Beautiful
The lie destroyed them. Now will the truth be told? Find out this week on #BoldandBeautiful! pic.twitter.com/iMCvk3oRud

— Bold & The Beautiful (@BandB_CBS) May 26, 2019
Things are a mess right now, and we cannot help but point out that we are so tired of hearing Flo and Zoe argue about what to do. They both initially wanted to share the truth about baby Beth and her actual life, but they decided that it would cost them too much. Now they've let it get so far out of control that it will cost so many more people than just them. Once again, they are sitting here arguing over what to do, and it's not something that will change. They both agree that keeping a baby from her parents and making them think she is dead is a horrible thing to do, but they also think that it would be just as mean to tell the truth after all that has happened and take this baby from the woman she knows as her mother. There are so many pros and cons of telling the truth, but their own reputation and their own roles in this are more important to them than anything else. We do not like it.
But, we also know that there is a lot more going on here than we can focus on. We know that they have some issues they cannot resolve, but so does Steffy. She is not overly happy with her own brother in the moment. She's not sure what he is up to, what he has planned for her, and what he is doing when it comes to Hope, but she is not a fan. She is not happy this is happening. She is not happy that she's been put in the middle of this. She's not happy about any of it, and she's looking for answers.
Stay tuned for more The Bold and the Beautiful and be sure to check out TVOvermind daily for the latest The Bold and the Beautiful spoilers, news, and updates.
Tell us what's wrong with this post? How could we improve it? :)
Let us improve this post!