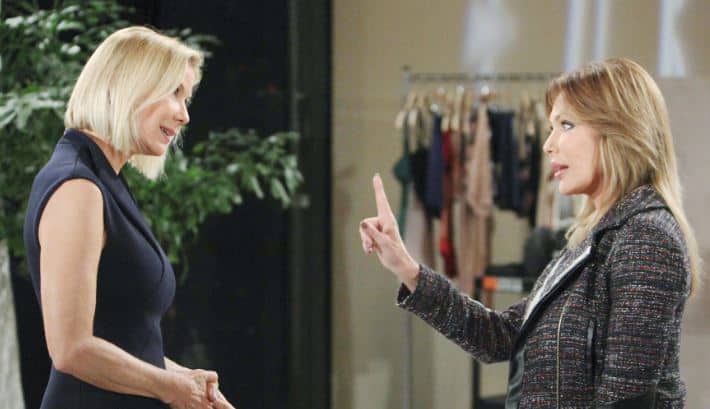 The Bold and the Beautiful fans are not surprised the week has begun like this. Monday was a big deal that we had to see. We all got to watch Taylor do a little bit of a panicking situation in her mind when she recalls the night she shot Bill and sent him to the hospital to fight for her life. She is terrified that he might just call her out on that and send her to jail for it, but she's worried for the wrong reasons. We also saw Brooke take some time to chat with her son-in-law about the changes in his father. She feels that he is a changed man and a good person all of a sudden, but no one buys that when it comes to Bill. None of us ever think that he is a good man who has made happy changes in his life, but that's what we all want to hear and think and assume in the grand scheme of things.
But that is not all. We also think that there is a good chance that someone will be upset by this, and we think that it might start with Liam. He's not entirely certain that he's comfortable with how much faith that his wife's mom has in his own father. She's a married woman, and he suspects that this is not something that is going to lead to anything positive or good, and that is another problem in and of itself. However, we do think that there is a lot that could happen in the next few weeks that change her marital status. Ridge might seem to be just fine trying to make things work with her right now, but that's not what will happen when this goes even further — if you ask us.
What's Happening on The Bold and the Beautiful
Who gets your vote for best dressed? #BoldandBeautiful pic.twitter.com/MpTQOxmQhN

— Bold & The Beautiful (@BandB_CBS) November 21, 2018
Who do you think looked their very best around the Forrester table on the biggest holiday of the year? We think it was definitely someone in these photos, but we don't want to sway your votes at all.
What's Next on the Bold and the Beautiful
This week @WayneBrady joins the cast of #BoldandBeautiful! 🚨PLUS, the crime, the cover up, and the fallout – It's all coming up on B&B! 🚨 pic.twitter.com/YSo4lvmYYq

— Bold & The Beautiful (@BandB_CBS) November 25, 2018
Liam is not going to be very happy when he catches his wife being yelled at by Taylor. He will not find it very nice that his ex-wife's mother is letting out her anger on all things that have nothing to do with her at his own wife, and he will step in. It doesn't matter to Taylor that her own daughter is just fine since things did not go her way. She will be very upset that things turned out the way they did and that they had a moment in which they all sat down upset and unhappy about things. She is not sure that she can handle the way things are going, the way things will go, or the way that there is going to be a situation in her life she cannot change. He will tell her to calm down, but we don't know that it will work.
And then there is the moment that we will find out that Steffy and Liam and are having a disagreement about Taylor's role in Kelly's life. She's a grandmother, but Liam is not entirely happy with the way she's acting about it, and she's going to let Hope know that she's not happy that she stole not only her daughter's office but also her husband. She's not happy, and there will be some serious conflict. Will Steffy tell her mother she has to chill out or get out? Or will she allow her mother to get in the way of what's working in their lives right now?
Stay tuned for more The Bold and the Beautiful and be sure to check out TVOvermind daily for the latest The Bold and the Beautiful spoilers, news, and updates.
Tell us what's wrong with this post? How could we improve it? :)
Let us improve this post!