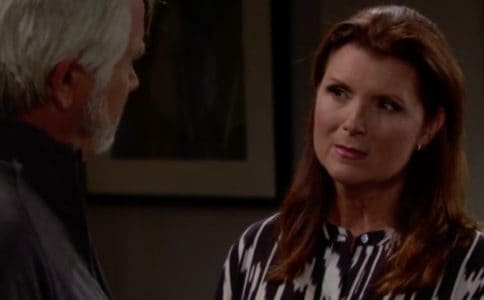 The Bold and the Beautiful spoilers tell us that Sheila is on the move yet again. She's not satisfied with merely being there for Eric as he pushes his wife to sign some divorce papers and get this over with. She wants more from him, and she's not going to waste another moment. Whether she really wants Eric or just the title of being his wife and spending his money is not something we're entirely clear on, but she definitely has every intention of going back to being his wife.
This means she's about to up her game in a serious way. She's going to push, she's going to make things happens, and she's going to stop playing games so that she can get what she wants out of this situation. She's turning on the charm in front of Eric and pulling out her claws in every other situation. She's not going to stop until she gets what she wants.
But what does she want? We are going to spend a lot of time watching her work for what she wants, but we are also going to spend a lot of time wondering what it really is that she wants. We are all a little confused by her right now, but we know she's a force and she's dangerous. Will she manage to hurt anyone on her way to the top she wants so badly? We have no doubt she absolutely will.