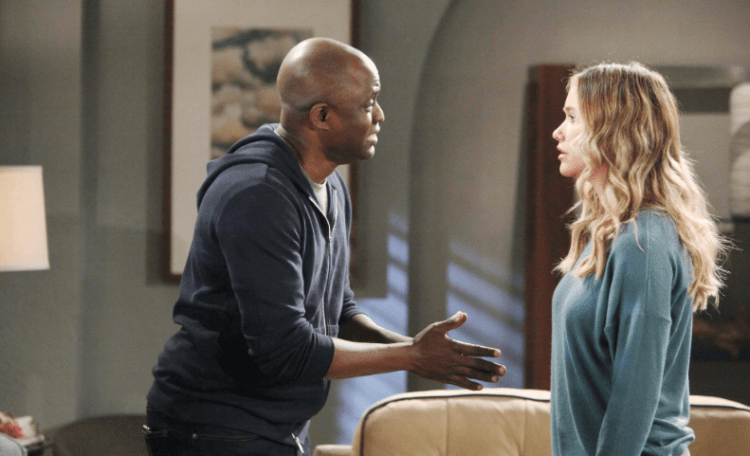 The Bold and the Beautiful fans are not shocked that things didn't work out for Zoe and Flo when Reese reached out to them. He's not a patient man, and he is not having any of this. They are too close to Hope. He sold Hope's baby after telling her that she died at birth, and he felt he had no choice if he was going to pay off his debts and keep his own daughter alive, but too many people know what he did right now. They know he handled this poorly and that he didn't do what he should have done. His daughter found out what he did with Flo, and Flo is starting to become close to Hope as she has a past history and connection to Wyatt. Things are not working out in her favor in the moment, and we cannot handle how this is going down right now. There's too much going on to make things seem effective and productive, and that's just part of the plan.
He's begging them not to say anything to her, but they aren't entirely on his side right now. Even Zoe wants to do the right thing, but she also does not want to hurt her father in any way. This is not something she's dealing with well, but she's managing. Wyatt has made it very clear to Sally that he is completely committed to her and their new business venture. He might be going back to work for his father, but he only did it if she could reopen her fashion line. And while it's her business, he will help her with it in any way he can. There is so much he can do right now, and there is so much he is wiling to help her with, and we love it.
What's Happening on the Bold and the Beautiful
Flo's ready to go all in and tell the truth. #BoldandBeautiful pic.twitter.com/d1USHNXmtr

— Bold & The Beautiful (@BandB_CBS) March 12, 2019
We don't see her getting out of this alive.
What's Next on the Bold and the Beautiful
https://twitter.com/BandB_CBS/status/1104743712511320065?ref_src=twsrc%5Etfw
Steffy is making some big life changes, and it's all Hope's fault. You see, she's been very patient with things that are going on with Hope and Liam after she decided she would not sit around and be the kind of person who let Liam dictate her life. They've been co-parenting their daughter well. They've been handling things well on their own. They've been doing their life in a way that makes it feel good and positive, and she likes it that way. But the problems that Hope continues to throw at her are making her crazy. She's too obsessed with Steffy's new baby. She's trying to convince her own husband to be with Steffy even though that's not what Steffy wants. Everyone is making decisions for her, and that's not what she has in mind.
She has other things in her mind that don't seem to work in her favor. They don't work in her favor because she's not interested, and she's making a life decision to get out of town with her babies. She's going to shock everyone when she announces she's planning on leaving LA and not staying in town. This means that Liam won't have his daughter around, and Hope will not have access to her daughter, either. Her mother, on the other hand, thinks she should fight for Liam and spend that time with him no matter what else happens. It's all bad news in every manner of speaking, and that's what happens when things are taken out of someone's hands.
Stay tuned for more The Bold and the Beautiful and be sure to check out TVOvermind daily for the latest The Bold and the Beautiful spoilers, news, and updates.
Tell us what's wrong with this post? How could we improve it? :)
Let us improve this post!