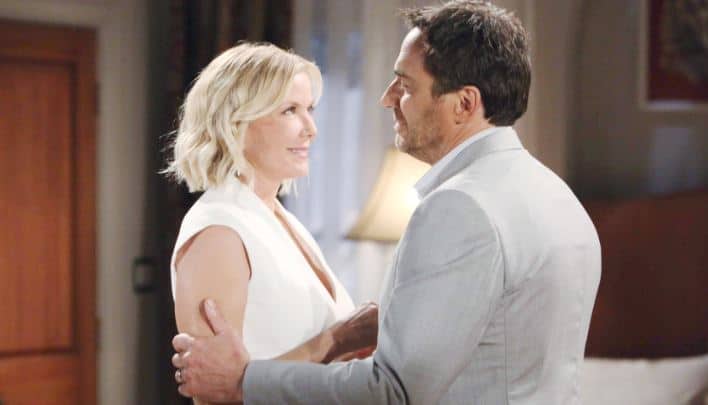 The Bold and the Beautiful fans knew this week was going to start the way that it did. We all knew that there was going to be a moment when the entire world lost their mind and things didn't work out the way they were meant to work out. We all knew that there was going to be a chance that things would fall apart and they would all have to handle what was going down the way it was meant to go down. We also knew that it was going to be a big change for some people to see this all happen, but Brooke will not back down from her stance that she is not wrong. She will not stop her feelings of being right about kissing Bill, and she will continue to try and prove that what she did was not wrong and that she did nothing wrong. She's managed to convince everyone her entire life that there is nothing she cannot do that's wrong. It's always someone else's fault.
And that's where she is as a person. She's an upset kind of woman who wants to do nothing that will work for her husband, and she wants to do everything that will work with her. She's got a lot of stuff to deal with, and she's got a lot of information to handle. She's upset and not working well as a person, but she's also so upset that she cannot listen to her husband and make any sense of what she has to do. He's upset with her, and she doesn't care. She doesn't feel that he is right to be upset with her.
What's Happening on The Bold and the Beautiful
What do you think? #BoldandBeautiful pic.twitter.com/fxqc8hXK0W

— Bold & The Beautiful (@BandB_CBS) October 15, 2018
We know that Brooke really just has the worst time figuring things out in her life. She's a woman who wants a little bit of everything, but she likes to have it all at the same time. And there is nothing wrong with that, until she ends up in this situation. Who do you think she should be with? Are you team Bill or team Ridge?
What's Next on the Bold and the Beautiful
Bold moves, broken promises, and BIG consequences – It's all coming up this week on #BoldandBeautiful! pic.twitter.com/V228Puik5F

— Bold & The Beautiful (@BandB_CBS) October 14, 2018
Bill's losses are adding up for the man in the current state of his life. He's already lost Liam after all that happened with his situation with Steffy. He lost his son Will when the judge made the decision to stop what was going on and give him to his ex-wife, Katie, and now he has to stop what he is up to and make some other changes in his life. He's a mess at this point, and he's now going to get some bad news from his other son, Wyatt. He's going to learn that Wyatt is also going to abandon him and take the job with Forrester. Bill is a mess, but Katie has managed to stop that by making him an offer that he might not be able to refuse so that he can spend some more time with Will. It's all a giant mess and something that they don't really how to handle. We don't think that they can make this any more complicated than it was, and that's all there is to it.
And then there is the fact that we also have to deal with everything going on with Brooke and Ridge. She's so mad at him, but she's still making the effort to be with him. She wants to save their marriage and make things work, but we aren't sure she can do that. We are not sure she's got the kind of power she needs in her life to make this situation a good one. She's so upset with so many things, and she's going to have to find a way to make this work while still hoping that Ridge will let her work it out.
Stay tuned for more The Bold and the Beautiful and be sure to check out TVOvermind daily for the latest The Bold and the Beautiful spoilers, news, and updates.