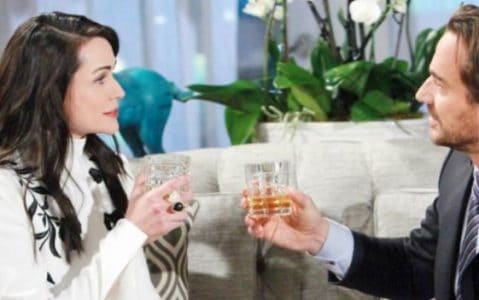 The Bold and the Beautiful is our favorite love triangle. There's always love triangle or two going on around here, and we're excited to tell you that there is another one this week. This is going to be one for the books, too. Sally is new in town. She's not been around for a while, but she's here now and she's caught the attention of Thomas. Except that now Wyatt is almost divorced from Steffy after their whirlwind love affair and quickie marriage following her departure from Liam last year, and he's looking to find love with someone Liam hasn't been with in the past. Of course, he's turning to Sally. Now that Thomas and Sally seem to have a thing, will Wyatt back off or will he continue to pursue her?
Caroline and Thomas don't seem to be working out well at the moment, and he's going to end up working for Spectra along with Wyatt and Sally. These two men seem to have the same love interest at the moment, and it's not going to end well for one of them. The question, though, is which one of them is going to end up alone and which one is going to end up with the girl?
Thomas is mad at his family, so she's the perfect girl for him. She's going to show up with him as his date to a family party at the Forrester's and we have the distinct feeling that nothing is going to end well with these two as she comes into the family home without much of a welcome from Eric and Quinn. These two, of course, are both involved in their own love triangles. Quinn is making out with her husband's married son while her husband seems to be falling for Katie, who hate Quinn and wants to see her suffer for all the things she imagines she hates her so much for. What will happen here, and will we get to see fireworks before the week is up? We have a feeling this is just the beginning of the excitement this week.
Tell us what's wrong with this post? How could we improve it? :)
Let us improve this post!