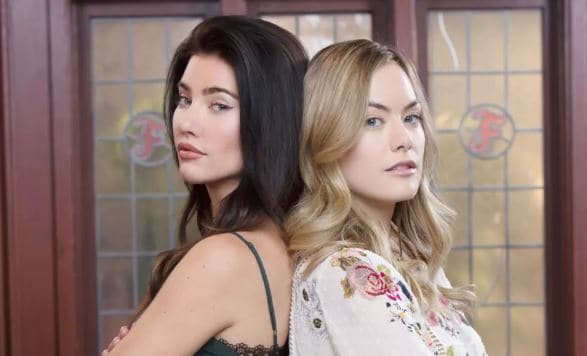 The Bold and the Beautiful fans don't always love the way people are written off this show. There is not much they can do to make things happen to stop it, but they can always complain online about the way things are going and the things that are happening. And there were a couple of instances in which they did have a poor time getting people to feel good about what happened. We've said it before; with tens of millions of fans, it's hard to keep everyone happy all the time, but there are a few character exits and deaths that aren't as good as others. Perhaps these people deserved a better send-off or perhaps they deserved to have things work for them in a more manageable manner. We don't know, but we do know that they didn't make many people happy when writers made these decision — and some of them is a casting mistake.
Bridget Forrester
Given that she was recently back on the show for the latest wedding of Liam and Hope, fans got to see her again after a long time. We've all decided to like her again, but it's been hard. You see, when she was first on the show, she was played by the amazing Jennifer Finnigan, and people missed her when she left. She wasn't a goodbye, because she was recast. But fans were not happy with the recast decision that was given, and that's all there is to it.
It wasn't the fact that they recast Ashley Jones to take on the role. She's still making her appearances as Bridget today. Fans love her. But it was the fact that they went to another actress between Finnigan's departure and Jones' arrival. The show hired Emily Harrison — and it was a poor fit. They just did not work well for them. There was too much going on, not enough that was working out for them, and there was too much that didn't work out.
It was good news for fans when they recast the role a second time with Jones. She was much more believable in the role, and fans were much happier. It was, perhaps, the biggest disaster on the show, and we didn't like it at all.
Sally Spectra
She came on big and strong, and she left out of nowhere. Luckily, writers quickly realized that she was someone the fans wanted to see back fast, and they brought her back within a few months of getting rid of her. She caused drama with everyone she met. She's fiery and she's fierce, and she doesn't back down from anyone even when she's afraid or when she feels she might have something to lose. She's a seriously awesome person, and we loved her.
When the show decided to write her off, they put her on a plane to New York City with Thomas, who was her boyfriend. His family hated that they were together, and they wanted him to get back together with Caroline, his baby's mama, and they all made up a horrible lie about her having cancer so that he would spend more time with her. It caused him and Sally to end things, but then he came back abruptly, she forgave him for believing the lies, and they left. There was no warning. There was nothing. There was just Sally here one day, and Sally gone the next day.
She was in town less than a year before she was gone, and fans were not at all happy about her exit. They mad that clear, too, and it was not something that anyone forgot to notice. It wasn't long after letting her go that the show decided to go ahead and bring her back, and it was the best decision they made all day long. It was a mess for a minute, but they figured it out in a way that quickly made everyone feel much better about things. It's been good now that she's back, and putting her together with Wyatt did help her situation a bit. They are a good pair, and their story is one fans love at the moment. It keeps everyone happy.