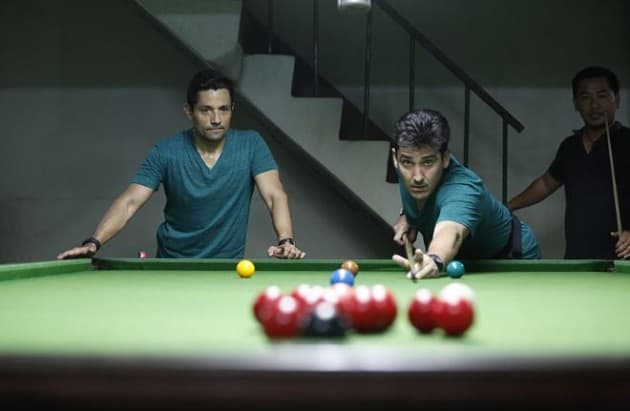 As The Amazing Race continues to heat up, the blind date couples are beginning to show their true colors while the established couples have used the strength of their bond to stay positive despite obstacles. At the end of the leg, though, the blind date couples still seem to be coming out ahead. Right now, I have my money on one of them winning but things could easily change as the race goes on. The blind date couples are more likely to crack under the pressure as things get more intense, something we've already started seeing a bit of.
For Haley and Blair, things have been tense from the start with their personalities immediately clashing. Each week, things seem to get worse as Haley finds more and more to complain about and Blair tries not to snap back at her. This week, after being told he wasn't listening to her during the last leg, he attempted to give full control to Haley. Instead of being happy that he was willing to do so, she went back and forth between asking him to make decisions for her and then complaining when something went wrong and blaming him. At this point, Blair seems to be doing everything he can to make it work but nothing can save this relationship (except maybe a million dollars). Even with their constant arguing, the two managed to pull of another second place finish during this leg. Apparently their strategy is working.
Jelani and Jennie got off to a strong start in the race but since then have had some issues. Jennie's strong, assertive personality is starting to get to Jelani, who is the more laid back of the two. This is taking a toll on their communication, as they have found themselves disagreeing about how to run the race. During this leg, Jennie made the decision to get a taxi and leave Matt and Ashley behind when the teams were both trying to find the same location. Thinking ahead, Jelani knows that this will make Matt and Ashley less likely to help them. The move didn't benefit him and Jennie all the much and wasn't worth it to lose a potential ally. If these two can't come up with a better way to communicate, it may cost them the race.
The other blind date couples are doing better and seem to be clicking, be it just as friends or with romance an option. Bergen and Kurt raced ahead and ended up with a first place finish, winning themselves a trip to Mexico. They come from completely different backgrounds but seem to work well together. Laura and Tyler definitely have chemistry but don't plan to explore it or rush into anything too fast, especially with the stress of the race. They're the couple I'm rooting for most at this point in the race, as they seem to get along great. Jeff and Jackie have also remained strong, no arguments getting in the way of their attempt at the million dollars.
Looking at the established couples, the Olympians have remained consistently the best, often finishing in the first half of the pack. Mike and Rochelle continue to be positive and not let the stress get to them, while Matt and Ashley spent the leg still excited about their fresh engagement. For Harley and Jonathan, this was the end though with their speed bump from last leg being too much to overcome. They clearly had a blast during their time on the race and were just glad to be able to run it together.
[Photo via CBS]
Tell us what's wrong with this post? How could we improve it? :)
Let us improve this post!