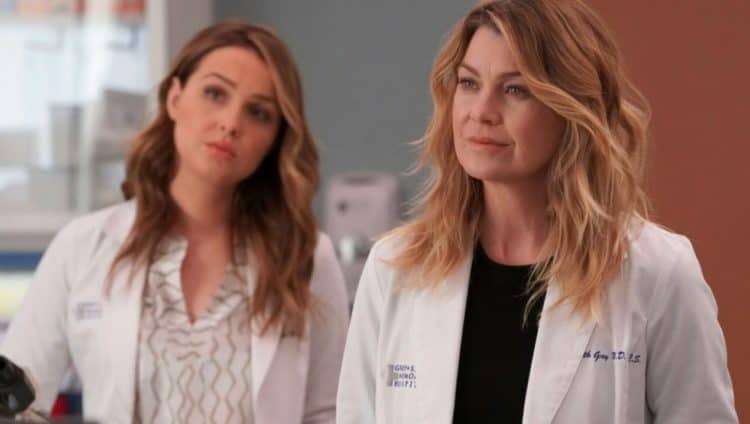 Medical dramas are popular today because of their relatable subject matter and their comforting formulaic structure. Although degrees vary, trauma and healing are universal human experiences. On medical dramas the audience is presented with a patient in a traumatic situation such an illness or injury and watches them and their caregivers, doctors and nurses and family members, work through the difficult situation. Like in real life, sometimes the outcome is good and sometimes it is bad but we do the best we can with what we have.
Medical dramas are also fairly formulaic in plot structure which is not a bad thing. The audience can get a whole story– beginning, middle, and end — and find comfort and closure in that. The patient comes in to the hospital, they are treated, and then heal or pass on. It is similar to the concept of a "well made play" in theater which was developed in 1825 by French playwright Eugène Scribe. These plays had a problem, suspense, and a climatic scene where everything was solved. The formula still lives on today.
So whether you are looking for a way to deeper connect to the human experience of suffering and healing or just want good structural drama check out these ten medical shows for an entertaining night of television.
ER
ER was created by author and medical doctor Michael Crichton of Jurassic Park fame. It ran for 15 seasons making it the second longest medical drama behind Grey's Anatomy. It tells the story of the emergency room staff and patients in the fictional County General Hospital located in Chicago, Illinois. Notable actors on the series include George Clooney as Dr. Doug Ross, Julianna Margulies as Nurse Carol Hathaway, Mekhi Phifer as Dr. Greg Pratt, John Stamos as Dr. Anthony Gates, and Angela Bassett as Dr. Catherine Banfield. Its long running tenure allowed for many cast members to exit making way for new faces. It is currently available to stream on Hulu.
Grey's Anatomy
Shonda Rhime's Grey's Anatomy is the longest running medical drama on television and is currently on season 17. The title is a reference to the classic 1858 medical text book Gray's Anatomy by Henry Gray. The plot centers around Meredith Grey, played by Ellen Pompeo, beginning with her first days in the surgical residency program of Seattle Grace Hospital. She must learn to balance living in her famous mother's shadow, a new job, a new romance, and the craziness of the medical profession. Other notable cast members include Sandra Oh as Cristina Yang, Patrick Dempsey as Derek Shepherd, Sara Ramirez as Callie Torres, and Jesse Williams as Jackson Avery. Like ER, Grey's has seen many cast changes because of its longevity. Older episodes are available to stream on Netflix and new episodes can be seen on ABC or Hulu.
Chicago Hope
This David Kelly creation ran for 6 seasons on CBS ending in the year 2000. It tells the story of a private hospital in Chicago and has a melodramatic and soap opera like style. Dr. Phillip Watters, played by Hector Elizondo, is the hospital Chief of Staff who works hard to keep the hospital going but often comes into conflict with the doctors on his staff who are fighting for patient needs. Notable cast members include Adam Arkin as Aaron Shutt, Mandy Patinkin as Jeffrey Geiger, Thomas Gibson as Danny Nyland, and Mark Harmon as Jack McNeil. It is currently not available to stream but keep checking back as these things shift all the time.
Scrubs
If you are in the mood for a more comedic take on medical shows, Scrubs will be your cup of tea. It ran for 8 seasons on NBC and one season as Scrubs: Med School on ABC. It was created by Bill Lawrence who would go on to work on shows such as Cougar Town and Ted Lasso. The title has a double meaning: scrubs are both what medical professionals wear and a term for a low ranking member. The plot follows and is narrated by John "J.D." Dorian, played by Zach Braff, as he begins his medical internship. Other notable cast members include Sarah Chalke as Elliot Reid, J.D's love interest, and Donald Faison as Christopher Turk, J.D.'s best friend. Scrubs is available to stream on Hulu.
M*A*S*H
Mash is another great option if you are looking for a medical comedy. The title is an acronym for Mobile Army Surgical Hospital so you get an army show and a medical show — two for one. It ran on CBS from 1972 to 1983 and was an extension of the film version. It follows medical doctors and soldiers in Uijeongbu, South Korea during the Korean War. Alan Alda stars as Benjamin "Hawkeye" Pierce and Wayne Rogers as "Trapper" aka John McIntyre. It can be streamed on Hulu.
Doogie Howser M.D.
This medical sitcom was created by Steven Bochco and David E. Kelley and ran for 4 seasons on ABC. The plot centers on genius Dr. Douglas Howser, played by a young Neil Patrick Harris, who is only sixteen years old. He is a second-year resident surgeon at Eastman Medical Center in Los Angeles but in the pilot episode is seen taking his driving test. His computer journal entries begin and end each episode. Howser while a genius and a doctor is still a teenager living at home with his parents. He got into medicine because of his experience battling childhood leukemia. His best friend Vinnie Delpino played by Max Casella helps keep him grounded. Stream this show on Hulu. As an added bonus try its reboot Doogie Kameāloha, M.D streaming on Disney+.
Call the Midwife
If you love medical dramas but ever thought this should have nuns and be British, have we got a show for you. Call the Midwife is a BBC period drama series that was originally based on Jennifer Worth's memoirs. The show has moved beyond its original source material. It follows the midwives and nuns of the Nonnatus House, an Anglican convent, as they aid the community of Poplar in the impoverished East End of London through pregnancies, illness, old age, and life. It is a heart warming and joyful show. Cast members include Jessica Raine as Jennifer "Jenny" Lee, Jenny Agutter as Sister Julienne, and Stephen McGann as Dr Patrick Turner. It is available to stream on Netflix.
Tell us what's wrong with this post? How could we improve it? :)
Let us improve this post!