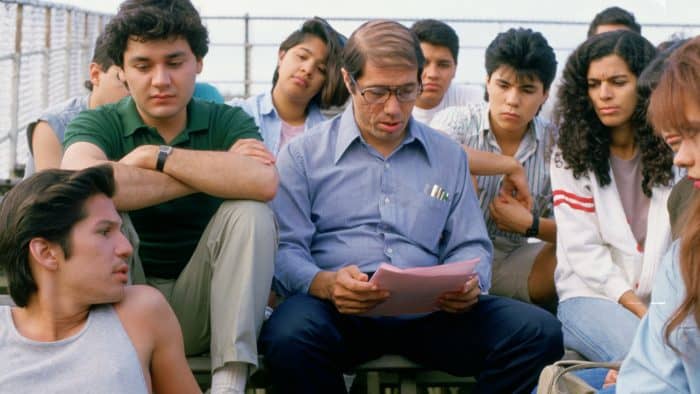 Entertaining probably isn't the first word that comes to mind when people think of math. Still, however, it has managed to become a popular subject for movies. From action movies to drama, math has found the perfect place in countless stories. Despite its popularity, though, math is one of those subjects that people either love or hate. While some people are able to solve complex equations in their heads, others still use their fingers to do basic addition and subtraction. If you're part of the latter group, just the thought of math probably brings up some negative feelings. However, you have to admit that math is a pretty difficult thing to avoid. The good news is that even if you're not a fan of math, you may still enjoy movies on the subject. Keep reading to see our list of the 10 best movies about math.
10. Pi
Even though Pi was released in 1998, it was filmed entirely in black and white. The movie follows the life of a fictional number theorist named Max Cohen. However, despite his high level of intelligence, Max's mental health makes it difficult for him to stay focused. Max finds himself in a sticky situation after he discovered a unique number that puts him in the crosshairs of agents from Wall Street.
9. 21
Released in 2008, 21 centers around the blackjack team at MIT. When Ben Campbell (Jim Sturgess) decides to join the team, he is just hoping to make some quick cash to help him out of a tough situation. What he doesn't realize, however, is that the world of blackjack is quickly going to have him in over his head. In order to win, the team uses the heavily frowned upon technique of card counting.
8. The Theory of Everything
The 2014 movie The Theory of Everything is a great example of a movie that even people who don't love math can enjoy. The film follows theoretical physicist, Stephen Hawking (Eddie Redmayne), but it doesn't just focus on his mathematical genius. Instead, the movie tells the story of who Stephen was on a personal level and how he dealt with his ALS diagnosis. Not only did the film receive mostly positive reviews, but it was also a huge hit at the box office.
7. Moneyball
Based on the book Moneyball: The Art of Winning an Unfair Game, Moneyball stars Brad Pitt as Billy Beane, the general manager of the Oakland A's who is struggling to build a solid team due to budget constraints. He decides to take a mathematical approach when it comes to finding the best talent. Beane began using a method called sabermetrics that involves looking at players from a purely analytical perspective. Beane's method was so reliable that other teams in the MLB also started using it.
6. Stand and Deliver
Based on the true story of a high school math teacher named Jaime Escalante, Stand and Deliver is a feel-good movie that also revolves around math. In the movie, Escalante (Edward James Olmos) is working at a rough inner-city school in Los Angeles. Not only does he have a hard time getting his students to pay attention, but he is also feeling pressure from his bosses. He decides to take a creative approach when it comes to teaching math. His students respond well, and they score so well on the state's calculus test that people question whether they cheated. Sadly, the real Jamie Escalante passed away in 2013.
5. Little Man Tate
Little Man Tate was Jodie Foster's directorial debut, and she also starred in the movie. Her character, Dede Tate, was a single mother whose 7-year-old son, Fred, was incredibly intelligent. He was especially gifted in math. Noticing her son's intellect, Dede decides that it would be in his best interest to be around other kids who are on his level. However, after enrolling him in a summer program for children with high IQs, both she and Fred start having second thoughts.
4. Hidden Figures
The 2016 movie Hidden Figures was easily one of the most memorable movies of the year. The film was based on Katherine Johnson, a Black woman who began her career at NASA during the 1960s. Katherine was responsible for calculating highly complex equations that helped send people into space. The movie was a huge commercial success and was nominated for three Academy Awards.
3. The Imitation Game
Some people might think math is boring, but The Imitation Game is proof that math can be right in the middle of the action. The movie is about a mathematician Alan Turning who helped crack Nazi codes during World War II. Turning's work was instrumental and he saved countless lives. Turning passed away suddenly in 1954 when he was just 41 years old. At the time, his death has ruled a suicide but that has since been disputed.
2. Good Will Hunting
Good Will Hunting is a 1990s classic starring Matt Damon in the title role as well as Robin Williams. Will Hunting is a genius but is a janitor at MIT. However, when a graduate professor, Dr. Sean Maguire (Williams), learns of Hunting's above-average IQ, he takes him under his wing and attempts to help him reach his full potential.
1. A Beautiful Mind
When people think about math movies, A Beautiful Mind is probably one of the first that comes to mind. The film stars Russell Crowe as world-famous mathematician John Nash. Throughout the movie, viewers see how Nash's genius earned him lots of praise, but also caused him lots of pain. Despite success early in his career, Nash also fell on tough times, and he spent years working to regain his former greatness.
Tell us what's wrong with this post? How could we improve it? :)
Let us improve this post!