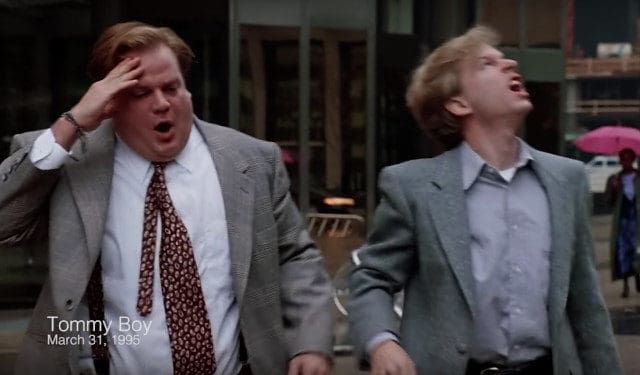 That's Gonna Leave A Mark moments can come from many different movies but these ones did it perfectly. Or should I say they did in a way that was at least on record when it was said to be because some of them felt a bit forced. There's a couple of different ways this saying can go down and they happen to be physical and emotional. Spiritually this saying gets a bit existential but it starts to fall apart like a wisp of cloud the further you take it. Physically it's pretty much used all the time even when it's not entirely practical. Perhaps one of the greatest uses it incurred during multiple takes was during the movie Tommy Boy, which the picture you see above.
The saying is as painfully obvious as it is painfully incurred most times since yes, physical acts that force a person to deal with real injury do in fact tend to leave temporary if not permanent marks that are either forced to be shown or can be hidden away. Even some of these however aren't necessarily moments in which you might want to really use the saying since there are so many other things that can be used in lieu of this very overused catchphrase. For instance shooting a person in the face and obliterating nearly half their head in the process is a bit overkill when using the phrase, while using it when someone incurs minor injury would be a little too underwhelming.
I know, Tommy Boy could fall under that same heading as being an injury that's not grave enough to be worthy of the phrase. The saving grace for the movie however is that Farley tends to use it when you least expect it and the delivery is so perfect that you can't help but laugh. It's been used before and since then but it's never had quite the same punch as it did during Tommy Boy. The saying will still elicit a light chuckle or even a laugh now and again when people hear it but otherwise it's been used so often and in so many different contexts that it's kind of lost the funny as of yesterday.
In the emotional context it even starts to lose its grip simply because it can be used much too freely and without any real hint at what it might mean. The most obvious meaning is that of course, it will linger, it will leave a psychological mark that a person can't move on from, and it will undoubtedly be something that bother's a person later on or throughout life. From that point on though it just gets muddled and broken down even further to the point that it becomes utter nonsense when it's voiced. That hurts to say really because I happen to like that catchphrase and have used it in a few stories. It never really gets old unless you hear it continually and without proper context.
Let's face it, Tommy Boy used it in one of the best ways.