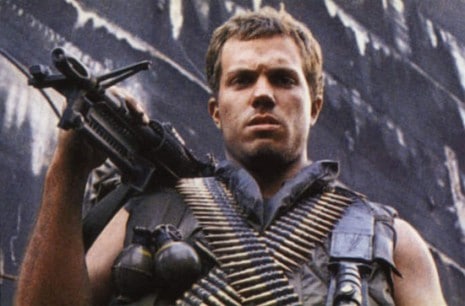 Oddly enough I first saw Adam Baldwin as a mean bully in the 80s movie Reckless. That was a pretty cool movie about a rebellious type in high school who gets involved with the typical blond cheerleader. It's a movie starring Aidan Quinn and Darryl Hannah. Baldwin is Hannah's original boyfriend before Quinn's rebel character moves in an woos her. Baldwin played the role of bad guy perfectly in that movie and I liked him ever since.
Most of you know Baldwin as Animal Mother in Full Metal Jacket and Jayne Cobb in Firefly But Baldwin's been around the block more than once in Hollywood. His other notables include a starring role in DC Cab and playing a military man in Independence Day.
All tolled, Baldwin has 117 credits to his name so he's no stranger to the screen. It's hard to believe this guy is well into his 50s now. Remember this clip?
"You can talk the talk but can you walk the walk?"