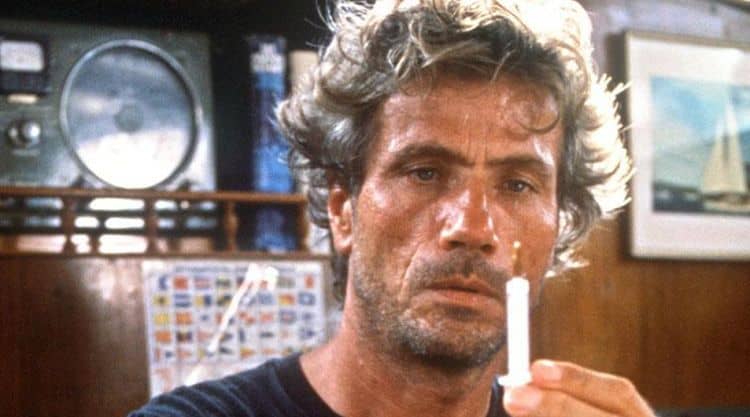 Jurgen Prochnow is another actor that a lot of people might look at and say "I like that guy" without knowing his name since to some it's not exactly a common name. But apart from that he has a very distinctive look and is easy to pick out of a crowd for a lot of people, especially since he's played some of the most interesting roles in show business over the years. A lot of people that are into foreign films might recall that he was in Das Boot, and many others might even remember him from the version of Judge Dredd that starred Sylvester Stallone, which was campy and over the top but still created a memory since it used a few very noteworthy actors, Jurgen being among them. He took on the role of Judge Griffin, who was the crooked Judge that released Rico, the genetic match to Dredd since they were both created in the same lab. However much this story detracted from the comics or didn't, the fact is that Griffin was bound to meet a bad end since he was the conniving, scheming type that didn't know who he was really messing around with when it came to Rico. That could be why there wasn't a lot of compassion when he had his arms ripped out of their sockets by the guard droid that Rico had at his side.
A truly disturbing role that he took on was that of Sutter Cane in the movie In the Mouth of Madness. The movie goes on to describe how a popular author simply disappeared, and the man that is sent to find him eventually discovers that he's little more than a character in the author's final book. Calling the movie anything other than a total mind-trip does a great deal of disservice to it since to be fair, it's uniquely creepy and is something that a lot of writers might find intriguing given that it has to do with creating a world that is born from fiction but ends up becoming very real thanks to the author and the effect his work has upon his fans. Jurgen plays such an effective role in this movie that one can't help but imagine that a lot of people might look askance at fiction writers after watching the movie. It kind of builds up the stereotype that a lot of us that write novels are nuts, but it does so in a way that's both dark and insanely effective, even if one can see behind the curtain the entire time.
Jurgen's career has been a long and successful one between his time spent in American movies and those filmed abroad, and he's usually played a very convincing character no matter what he's been in. He played the role of General Ivan Redak in Air Force One, but since it wasn't a speaking role and only showed him a couple of times it's fair to say that this wasn't a great test of his skills. He was however in Beerfest as Baron Wolfgang von Wolfhausen, the owner and operator of a famous brewery in Germany that was used as the antagonist of the story considering that he and his team of hard-drinking competitors were determined to show up the Wolfhouse brothers, two American restaurant owners, and brewers that had ties to the Wolfhausen line through their grandfather and great-grandmother. He was a pretty vicious antagonist, but he was hilarious as well since he played the part off so well. One can easily say that Jurgen has been able to fit pretty much any role that he's been given over the years since his ability to create drama and embrace comedy has been equally good no matter what movie he's in. One would think that watching some of his acts that he wouldn't be all that great in one capacity or another, but even looking craggy and crotchety he pulls off a comical lean that's amazing since it comes through so clearly.
Out of the many actors that aren't really known by their names, Jurgen is one that can definitely be picked out of a cast in order to determine just what else a person has seen him in. Given that a lot of his time has been spent in foreign films it's easy to get stuck on where one has seen him sometimes, but he does have an impressive array of American movies that he's taken a role in as well. Plus, despite his very strong accent, he's very easy to understand, which makes for a much easier time of watching and enjoying his roles given that one doesn't really need subtitles to understand him. No disrespect meant to anyone, but there are some actors whose accents make it nearly impossible to understand them.