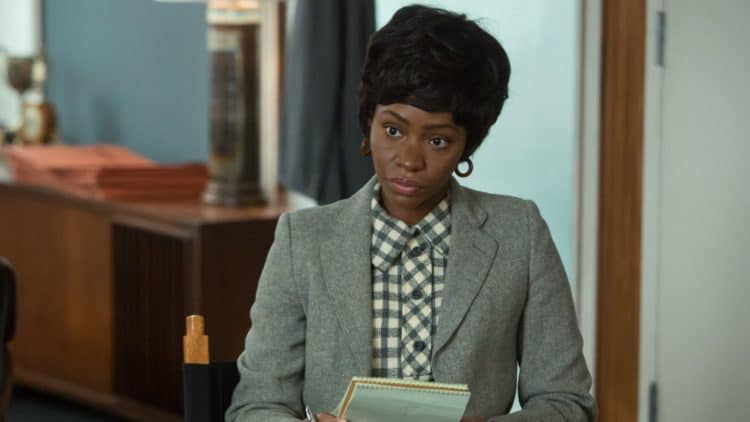 Over the last decade, Teyonah Parris has broken into the acting world and shown how incredibly talented she is. Her resume includes roles in successful TV shows like Mad Men and Survivor's Remorse. She has also brought her talents to the big screen and she's had roles in movies such as Chi-Raq and The Photograph. She also has a role in the upcoming film, Candyman, which is a remake of the of the 1992 film of the same namy. The amount of depth and versatility Teyonah brings to ever character she plays is truly unmatched. If you see Teyonah's name scroll through the credits, you already know you can expect something good. Keep reading for 10 things you didn't know about Teyonah Parris.
1. She Grew up Doing Pageants
Teyonah's introduction to performing didn't come from acting. She started doing pageants at an early age. During an interview with Coveteur she said, "I started by doing pageants in South Carolina. [First] the school pageants and then the ones at the local mall. It was so expensive though. So my mom would do my makeup, and I would wear some of her clothes. We made it work. It [wasn't] like what you see on TV where people are spending thousands of dollars to compete. That wasn't us; we didn't have it like that. But it was fun and I enjoyed the competition of it all. I loved it"
2. She's A Graduate Of The Juilliard School
Once Teyonah discovered her love for acting, she took it very seriously. She attended South Carolina Governor's School for the Arts and Humanities for her final two years of high school and went on to study at Juilliard where she earned a bachelor's of fine arts.
3. She's Serious About Her Skin And Hair Routine
Spending a lot of time in front of lights and cameras may sound fun and glamorous, but it can actually be very hard on a person's skin and hair. As a result, Teyonah has come up with her own skin and hair care routines to keep her looking and feeling her best. When she's working, she puts extra time into taking care of skin to combat the heavy makeup she has to wear for shoots. She transitioned to natural hair about eight years ago and she's created a homemade concoction that she sprays in her hair on a regular basis.
4. She's Been Nominated For Several Awards
Teyonah is definitely one of the most underrated actors in the industry, but she's still gotten some recognition for the talent she brings to each project she works on. She's been nominated for multiple awards including a Screen Actors Guild Award and three Black Reel Awards. In 2015, she won an African-American Film Critics Association Award for Best Actress for her role in Chi-Raq.
5. She's A Big Fan Of Angela Bassett And Halle Berry
When Teyonah was growing up, Angela Bassett and Halle Berry were two of her biggest influences. She told Coveteur, "I loved Angela Bassett and Halle Berry. Whenever I did a school play my mom and dad would be like, 'You look like Angela Bassett up there! You go girl!' just hyping me up. I'm sure I looked nothing like Ms. Bassett, but her and Halle were certainly two of my role models."
6. She Likes To Travel
Traveling the world is a priceless experience that not many people get to have. Teyonah has been blessed to have a career that has afforded her the opportunity to visit places near and far. Some of the countries she's been to include Greece, Dominican Republic, and the Netherlands.
7. Her Grandmother Helped Her Prepare For Her Role On Mad Men
Teyonah's role in Mad Men proved to be a major break for her career. While preparing for the role, she tapped into a source near and dear to her heart: her grandmother. Teyonah's grandmother and the character Dawn shared several similarities that helped Teyonah gain perspective for the role.
8. She Loves To Spread Positivity
Keeping viewers engaged is always one of Teyonah's main goals when she gets in front of the camera, but entertainment isn't the only thing she hopes to achieve. Throughout her acting, she wants to spread positivity and hopes that her work will inspire and empower viewers.
9. She Likes To Stay Active
Exercise isn't just about getting the body in shape, it's also a great way to feel good mentally. Teyonah is a very active person who loves to workout when she gets the chance. However, working out for Teyonah doesn't always mean going to the gym. She also likes to do outdoor exercises.
10. Spike Lee Reached Out To Her Directly For Her Role In Chi-Raq
The 2015 movie Chi-Raq was Teyonah's first major film role, and the opportunity came directly from Spike Lee himself. During an interview with Coog Radio, Teyonah said that Spike Lee took her out to lunch and explained the film to her. He said that he hoped the project would save lives.
Tell us what's wrong with this post? How could we improve it? :)
Let us improve this post!