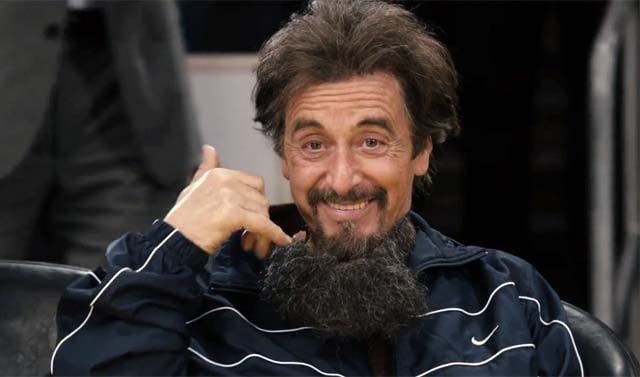 It's one of the truest things about Hollywood: even the best actors out there can have some of the worst movies. And I'm not just talking about the ones where we laugh so hard because it's so bad – I'm talking about the real clunkers. Some of the most well-known, big time actors around can't escape the failings of a bad director or a poorly written script, no matter how talented they are. No matter how many excellent, Oscar-nominated films they star in, people will still always be remembered for their worst movies as well. No famous actor in Hollywood is immune from choosing a stinker of a film every once in a while, and here are ten of the worst movies starring big time actors.
Al Pacino – Jack and Jill
You might know Pacino from films like Scarface or Donnie Brasco or those little, minor movies called The Godfather trilogy. It seemed, for a while there, that it was almost impossible for Pacino to make a bad film. However, as he got older and started choosing different projects, Pacino has starred in a few of the worst movies in recent years, but none worse than the mind-numbingly stupid Adam Sandler film Jack and Jill. This one movie alone is almost bad enough to erase all the other good movies that Pacino has been in over the course of his career.
Robert De Niro – Godsend
Like Pacino, Robert De Niro was in so many good movies for such a long period of time that you may have never believed that he would find himself weighed down by any sort of clunker. However, in 2003, De Niro starred in Godsend with Greg Kinnear and Rebecca Romijn, an implausible, ludicrous, and cheap horror flick with some of the worst, most unbelievable dialogue ever put to film. It's also one of the worst movies, if not the worst, that De Niro has ever been in.
Jack Nicholson – Man Trouble
When you think of Jack Nicholson's most iconic films, what comes to mind for you? One Flew Over the Cuckoo's Nest? The Shining? Chinatown? The Departed? Ever hear of Man Trouble? That would make sense – it's one of Nicholson's worst movies of all-time. In fact, the 1997 film was so bad that it earned Nicholson a Razzie nomination. That's right: Oscar-winning Jack Nicholson was nominated for a Razzie for Man Trouble. Personally, I find that more terrifying than anything from The Shining.
Dustin Hoffman – Little Fockers
First let me say, I'm a huge fan of Meet the Parents. I absolutely love that movie. And when they made the sequel to it, Meet the Fockers, I thoroughly enjoyed that film as well, mostly due to Hoffman's performance as Gaylord Focker's dad (although Barbara Streisand did some pretty funny work as well). However, no matter how much I liked the first Meet the Parents films, I have to be blunt and honest when I say that there was absolutely no need for Little Fockers. No one from Ben Stiller to Robert De Niro to Dustin Hoffman, who really only shows up for a cameo spot in the film, should have been a part of this atrocious sequel that is certainly one of the worst movies of all of their careers.
Philip Seymour Hoffman – My Boyfriend's Back
Philip Seymour Hoffman was one of my all-time favorite actors before he passed away suddenly this year. However, no matter how amazing of a performer he was, Hoffman himself still found his way into one of the worst movies out there with 1993's My Boyfriend's Back, a bland and just plain unfunny comedy about a young zombie's love for a gorgeous high school girl. To put it simply, My Boyfriend's Back is lifeless (pun intended).
Brad Pitt – Cutting Class
Cutting Class is by far one of the worst movies from Brad Pitt's incredibly strong film career. A high school mystery that investigates which of a group of high school guys may be a serial killer, Cutting Class was doomed from the first draft of its script, and there was no chance that any actor, not even one as great as Brad Pitt could save it. It certainly shows that he's come a long way in order to be the Oscar-nominated actor he now is today with films like Moneyball, Inglorious Basterds, and 12 Years a Slave on his resume.
Angelina Jolie – Original Sin
The only thing that makes Original Sin, one of the slowest, most boring, and overall, worst movies I've ever, even somewhat interesting is its R-rating (which was almost made into an NC-17 one) and the fact that it has Angelina Jolie in some pretty promiscuous situations. Overall, though, the film is simply a waste of both Jolie and Antonio Banderas's talents, and what was supposed to be a sultry and seductive romantic thriller is simply a chore to get through.
https://www.youtube.com/watch?v=w16stVhviHc
Jennifer Lawrence – House at the End of the Street
In her short film career so far, Jennifer Lawrence has found herself in numerous indie films, Oscar winners, and in one of the biggest movie franchises in history with The Hunger Games. So who can really blame her for wanting to try something different with a "run-of-the-mill" horror flick? We can, especially if it's as boring and predictable as House at the End of the Street. Thankfully, this has been the only minor misstep in what has been a streak of stellar films for Jennifer Lawrence over the past few years.
Reese Witherspoon – Four Christmases
Reese Witherspoon is one my favorite actress out there in Hollywood today, when she's given good material. Unfortunately, though, she has starred in some of the worst movies that have come out in recent years, especially this holiday horror fest. I was unlucky enough to see Four Christmases in theaters with friends, even after having read the negative reviews. Obviously, I ended up being incredibly disappointed with the movie for its many filmmaking atrocities, the greatest one being that it didn't just waste the talents of Reese Witherspoon but of Vince Vaughn as well.
Christian Bale – Terminator Salvation
Terminator Salvation is the infamous movie where Christian Bale went a little crazy and started screaming and cursing off at the set guy for being "in his light or something." To be honest, I can't really blame Christian Bale for being angry during this production, because Terminator Salvation ultimately ended up being an absolute snorefest, something you never want to call any movie in one the most famous action franchises of all-time.
Tell us what's wrong with this post? How could we improve it? :)
Let us improve this post!