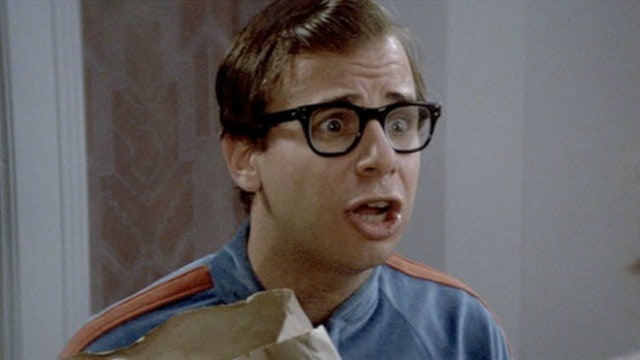 In 1997, actor Rick Moranis made the really respectful and admirable choice of leaving acting after his wife had passed away from cancer in order to focus more on raising their kids. Since he essentially "retired," Moranis has done some voice acting in animated films like Brother Bear and Rudolph the Red-Nosed Reindeer and the Island of Misfit Toys, but he's really been out of the limelight since hitting it big in the 80s and 90s with movies like Parenthood and, obviously, Ghostbusters. With the news coming out weeks ago that the creators of Ghostbusters want to make a third film in the series, it's gotten us thinking about Moranis, who for the most part, had a pretty short film career, and the movies that he had been in. And while some of these choices made be impacted by both nostalgia and a slight lack of knowledge (I've never seen films like My Blue Heaven or LA Story, for example), here are my picks for the top ten best Rick Moranis movies.
Photo by Mark Mainz/Getty Images
10, Ghostbusters II
Sequels are typically never better than first movies in series (Empire Strikes Back and The Dark Knight being the only two exceptions I can really think of), so it's really no surprise that Ghostbusters II was a slight disappointment compared the iconic fun of the first movie. However, because of actors like Rick Moranis, alongside Bill Murray, Dan Akroyd, and the rest of the crew, Ghostbusters II is still w worthy watch and deserves a spot on this list.
9. My Blue Heaven
This will be one of three Rick Moranis/Steve Martin collaborations on this list, and to be honest, I mainly put this movie on here because its description sounds so fantastic. Moranis plays an FBI agent who must watch over Martin, who is a former mobster that has been placed under witness protection. Even though I haven't seen My Blue Heaven yet, just the idea of Moranis as an FBI agent is enough to win me over. You factor in Martin as a mobster, and that makes me even more interested in checking it out.
8. LA Story
Rick Moranis only has a small role in LA Story but in his brief appearance as the gravedigger, one that makes not the most politically correct jokes to Steve Martin and his wife in the film, he's quite memorable. LA Story focuses on Martin's TV meteorologist Hank, who is stuck in a loveless, dead-end relationship. That is, until he meets Sara, a woman who brings out a spark and excitement in him that he's never felt before. This is more Martin's movie than Moranis's, but hey, I still had to put it on here for his incredibly goofy character.
7. Strange Brew
Strange Brew has it all: blackmail, beer, shenanigans, beer, crazy mind-control plots, and also beer. Seriously, though, Strange Brew is Moranis's first feature film appearance, and it's a good one, as it combines all the best aspects of the buddy comedy: goofy best friends, ridiculously over-the-top plot, and some type of mind-altering substance (films like Cheech and Chong and Pineapple Express have their weed, while movies like Strange Brew and Beerfest connect with every man's primal desire to have a cold one at the end of the day). This was the start of what would be a short-lived but solid film career for Rick Moranis.
6. Honey, I Shrunk the Kids
While making this list I realized just how many childhood favorite movies of men Rick Moranis is in. Honey, I Shrunk the Kids is one of them. The plot of the movie is pretty much spelled out in the title, but what made this film so fun was that both children and their parents could enjoy it. Children could find themselves in the adventurous roles of the kids in the movie, as they dealt with how being almost microscopically small, while adults could laugh at the absurdity of the whole movie and think to themselves that at least they never screwed up as badly as Moranis's character does in the film.
5. Parenthood
Before there was the excellent show Parenthood (that's about to enter its final season on NBC and has all previous seasons available on Netflix so go watch them!), there was the 1989, Ron Howard-directed film. What made Parenthood such an enormous success with both audiences and critics, aside from the stellar cast that included Moranis, Steve Martin, Mary Steenburgen, Martha Plimpton, and Keanu Reeves (among many others), was the realism of the movie. No matter the size or personality of your family, there was something intrinsically relatable about the characters in Parenthood, and that's what made it such an enjoyable film for many.
4. Little Shop of Horrors
Not going to lie, the idea of Little Shop of Horrors always scared me. Even though I know it's a funny, offbeat, original musical (which was then turned into the 1986 movie with Moranis's Seymour at the center), something about the idea of a plant being able to just attack and eat you was just too freaky for me, although I realize I'm in the minority here. While Little Shop of Horrors under-performed slightly at the box office (only raking in $38 million), it's become an absolute hit on since being released on VHS (ah, you remember VHS?) back in 1987.
3. Spaceballs
THE POWER OF THE SCHWARTZ! As someone who loves both Star Wars and Mel Brooks, I was pretty much destined to love Spaceballs, and that's exactly what happened when I first saw the movie almost a decade ago at my friend's house. A large part of my enjoyment of the film came from Rick Moranis's performance as the hilariously bad villain, Lord Dark Helmet, whose overly large helmet was only one of the numerous hilarious running-gags that one could find in this film. Even though it didn't garner the greatest reviews, Spaceballs will always be one of the funniest movies I've ever seen.
2. Little Giants
Little Giants is my personal favorite Rick Moranis film. Maybe it's the underdog story. Maybe it's because, like Moranis's Danny, I butt heads with my older brother all the time, too. Maybe it's the fact that this was one of my most-watched films during my childhood years, along with The Sandlot and The Gonnies. I'm not really sure exactly why I love Little Giants so much. However, whenever it's on TV, I'll throw it on and not get off my couch until it's over. It's one of those movies that makes me feel like a kid again, like anything's possible. There you go – that's why I like it so much.
1. Ghostbusters
You had to know that this was going to be number one. Ghostbusters is one of those movies that is nearly universally loved. You can be friends with someone for years or randomly bump into a guy on the street, and there's a 99% that both of these people will love Ghostbusters. For Moranis, the film was the "big moment" of his career, the movie that put him on the map. However, I'd argue that it never got better for Moranis after Ghostbusters, that this movie was his crowning achievement. Hopefully, if the script is good and the actors are committed, we can see a truly awesome Ghostbusters III, with Murray, Akroyd, and, of course, Rick Moranis all ready to make us laugh and cheer again. Who you gonna call?