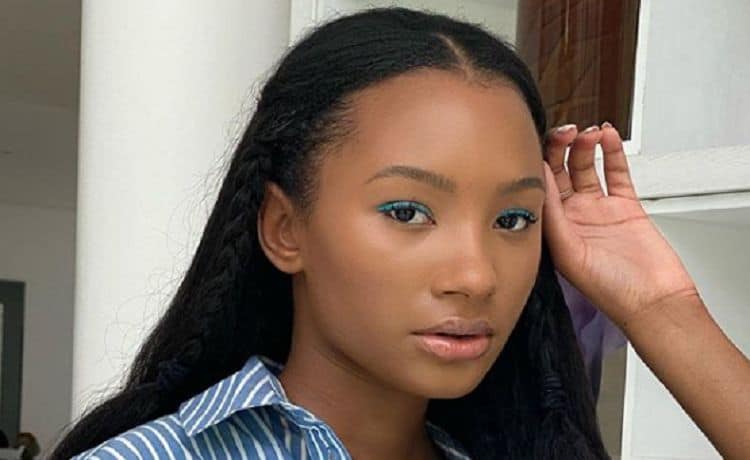 Depending on where you're from, Temi Otedola is a name you may not be familiar with, but that won't be the case for much longer. Temi is on her way to becoming an international star and her role in the new Netflix movie Citation is her first stop along the way. While acting is her focus at the moment, Temi has a host of other talents that she's looking forward to sharing with the world. Even if you haven't seen her do her thing just yet, now is the perfect time to start paying attention because there's a very good chance we're going to see a lot more of her in the future. Continue reading for 10 things you didn't know about Temi Otedola.
1. Her Father Is A Billionaire
Temi comes from a very well-connected and respected family, and she's ready to carry on the legacy. Her father is Nigerian business man Femi Otedola who is best-known for founding Zenon Petroleum and Gas Ltd. Femi also has three other children. Temi's sister, Florence, is a well-known producer who goes by the name DJ Cuppy.
2. She Loves To Travel
When you grow up with a parent who has an endless supply of money, you have access to things that the average person could only imagine. Thanks to her father, Temi has gotten to have lots of cool experiences all over the world. She has been to many different countries including Maldives, Brazil, Italy, and France.
3. She Is A Social Media Influencer
Even though her career in the entertainment industry is just getting started, Temi is already a star in her own right. She has a very large following on social media that includes more than 926,000 people. There's a very good chance she'll be hitting that 1 million mark soon.
4. Citation Is Her First Acting Job
Citation is a big opportunity for Temi in more ways than one. The movie is actually her first ever on screen appearance, although you wouldn't be able to tell from watching her. The fact that the film has been released on Netflix in several countries makes her debut even more special.
5. She Wants To Work In Art Dealing
Even though it may seem like Temi is working hard to establish herself in the entertainment industry, she actually has other goals for herself. Her ultimate plan is to have a successful career in art dealing. As someone who is extremely passionate about art, that seems to be the perfect field for Temi.
6. She Loves Fashion
Fashion is a big part of Temi's love and she loves getting the chance to show off her personality through her clothing. She told Elite Living Africa, "I've always been enthralled by fashion. I love throwing contrasting pieces together and finding unique items in unlikely places. I honestly believe you're never too old to play dress-up." She also started a blog called JTO Fashion.
7. She Is Dating Mr. Eazi
Temi is currently in a relationship with Nigerian musician, Mr. Eazi who is best-known for his single "Leg Over". He has also worked with big stars such as Nicki Minaj and Major Lazer. Mr. Eazi told Guardian, "I met Temi in London. It was an event, her sister invited me for an event. Her sister was playing at the event, somewhere in Nightbridge and she said, oh come out come out, follow me to this event, so I followed her to the event and then she was deejaying and all of a sudden it was just me and Temi sitting down and just watching her."
8. She Loves To Read
Education is something that has always been important to Temi and she loves getting the opportunity to learn new things. Reading is one of her favorite ways to access new information and she even started a book club through her fashion blog where she shares her latest reads.
9. She Is A Morning Person
For lots of people, the thought of waking up early in the morning is a nightmare, but Temi doesn't feel that way at all. During an interview with CNN Africa, she shared that she is a morning person who loves to get up around 5 or 6 AM. As a result, she usually goes to bed around 9 PM every night.
10. She Loves Journaling
Temi is the kind of person who loves to put her thoughts down on paper. She told CNN that she spends at least 15 mornings writing in her journal. She didn't go into detail about what she rights about but she did hint that her journal includes some deeply personal things.