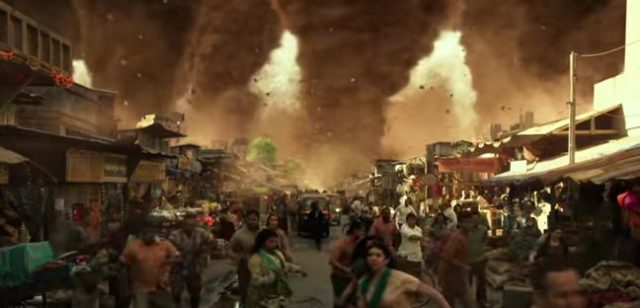 How badly do the producers want people to see Geostorm? If I sound at all unkind I do apologize but this seems like a pretty big push for a movie that a lot of people are only talking about when it hits the TV as a trailer. Don't get me wrong, the special effects look awesome and it could be better than people are saying thus far, but to prank people trying to get somewhere via cab ride is kind of pushing it to gain the kind of publicity you need. It's an interesting prank to be honest and has to take a lot of time and effort to pull off, but it also seems like it would be easily defeated by those who are really paying attention. Now I wonder how many people it worked on and how many we really get to see in this clip.
I guess what I'm trying to say is wouldn't you think to look back where you'd come from and notice that NO ONE is panicking and the snows are only falling onto this one section of road? Also, how far off did they manage to block the road so that this effect could be put into place? It's definitely a funny prank but it also had to take a lot of time and money to pull off for just a handful of people at best that were really fooled by it for any length of time.
Why wouldn't it work so efficiently? Some people would be taken in no doubt, either because they're really not paying attention or because they happen to worry incessantly about things like this. It is true that some people seem to think that the world is going to end at any moment and take any bit of bad news like gospel, but this is pure common sense. If you just came from a street where the weather is warm and sunny and start seeing nothing but snow and ice then there's something up. Typically those people would be freezing their butts of in the cab long before they began to worry.
The newscast is a nice touch though, but I still have to wonder just how many cabs have TV's in them? Is this a new thing that some of us still don't know about? I've got to be honest if I was sitting in a cab waiting to go somewhere I would much rather be watching a game of some sort or at least some quality programming. But then of course the newscast would obviously override that so that part seems covered. But what about looking out the window and looking up? You might not have perfect visibility but you could definitely see far enough up to see that the sky is still blue and that there's no blizzard going on. Snow storms don't tend to work this way and if they did then we're all in big trouble eventually.
It's a clever prank, but honestly all a person would have to do is look around.