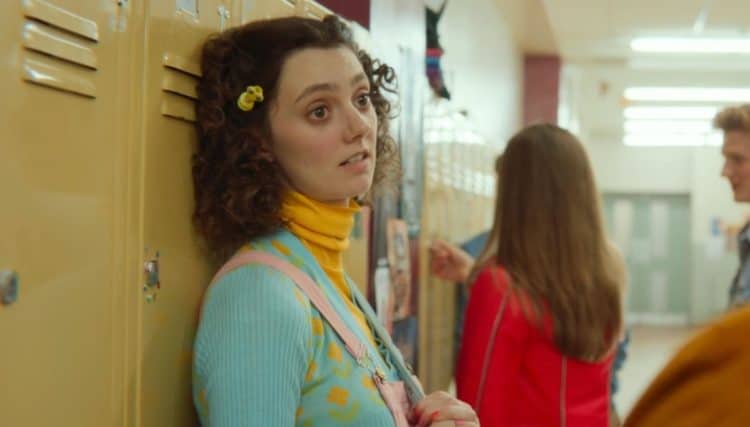 At the tender age of four, Tanya Reynolds acted in a school nativity play, and her mother praised her so much for the stellar performance that Tanya thought about becoming an actress. She did not believe acting school was necessary and went looking for an agent, but her future as an actor looked bleak with each failed audition. Her time to shine has come and "Sex Education" puts her in the class of celebrities; the series already has 40 million-plus viewers and has been picked for the third season. If you want to know more about her, look no further; we have all the details.
1. She has never been the lead
Persistence has been attributed to opening doors, but in the case of Tanya, it was not heading anywhere. She kept auditioning for lead roles but never got any. Her bad luck started in school when she wanted to play Tallula in "Bugsy Malone", but she was cast as Knuckles. Hoping her fate would change for the better, Tanya auditioned for Alice in "Alice in Wonderland" but booked the part of the Dodo while she bagged the role of Miss Lynch in "Grease" yet she wanted to be Rizzo.
2. She almost gave up on acting
Besides the lead roles always eluding her, one agent broke Tanya's spirit telling her that she did not have an ordinary face; hence finding work on television would be difficult. With things not going her way, the actress was not fully settled on being an actress until she went to drama school. It is in Oxford School of Drama that Tanya learned being the lead was not necessary for her to be a great performer. Additionally, she began to appreciate herself as she is, which fueled her passion for being an actress.
3. She uses writing as therapy
Penning down your most private thoughts has a specific effect on someone's mental health because it enables a person to be vulnerable. Since therapy is also about opening up to someone, then Tanya uses writing as her form of therapy. However, she tells Marie Claire that it is her best therapy besides actual therapy so we can assume that she has a therapist. Tanya keeps a journal and refers to whatever she wrote in the past to deal with similar situations she might be facing in the present.
4. She hoped her weirdness would one day be a strength
With a prospective agent already telling her that she was not ordinary enough to be cast in ordinary roles, Tanya resigned to being the weird one. Even her taste in characters always gravitated towards those strange characters that most likely no one wanted. For instance, in "Friends" she liked Phoebe while in "Buffy" the actress preferred Willow. She could connect with those characters since she felt like an underdog herself. However, she hoped that one day, all the weirdness would pay off and through playing Lily, Tanya believes it has.
5. Being Lily has transformed her into a sci-fi lover
Since Lily in "Sex Education" is obsessed with "Battlestar Gallactica," Tanya wanted to know what Lily felt like when she zoned out; therefore, she watched the series before filming started. Although she confessed sci-fi movies were not her cup of tea, by the time she was done watching it, she had become addicted. Consequently, if she had to spend a night out with Lily, they would have a sci-fi film marathon at Prince Charles Cinema, as she told The Italian Reve.
6. She comes from a low-income family
Tanya's father is a builder while her mother was a signwriter; hence affording drama school was out of the question. She had already completed her degree, thus needed a school that offers full scholarships to postgraduate students. Oxford School of Drama is the only one that met her needs, and luckily she got a scholarship. Besides the much needed financial help from Oxford, Tanya loved that the training focused mostly on performance, unlike other institutions where students are loaded with so much coursework and little practicals.
7. She carries a red clown nose wherever she goes
You might have heard someone advice you not to take life too seriously. Well, in Oxford, it seems like that it is an entire class under the name of "clowning." Before Tanya went to the institution, she feared that she would make a fool of herself, but of all the classes she took, "clowning" ended up being her favorite. The actress, therefore, takes the red nose wherever she goes to continually remind herself that she is allowed to be silly and make mistakes.
8. When she fell in love with acting
Tanya's passion for acting dates back to her childhood days when she would "Grease" at least twice a day. She imitated Rizzo in the living room where she practiced her acting skills before shifting to Danny and Sandy. As she stubbed out the cigarettes in carpet, Tanya thought how lovely it would be if she got to do that for a living. It is, therefore, no surprise that she later auditioned for a "Grease" play hoping to be Rizzo.
9. The greatest advice she has ever received
Someone once said that whenever you are rejected, you should think of it as a blessing because you are being redirected to something much greater. Still, not everyone has faith in a better future, and Tanya was despaired after facing so many rejections. She always was compared to other people, which had her thinking that there was something wrong with her; that being herself was in itself a weakness she needed to overcome. However, Sheila Hancock told her there is only one Tanya Reynolds; hence she can offer something that no one else can, and that is her strength. Now the actress is happy that she was rejected from all other shows.
10. She is working on a script
For someone who likes to keep her sanity by writing down whatever runs through her mind, it is not a wonder that Tanya is working on a short film script about social anxiety. She confessed that she wants to birth something and see it grow to the final cut, so let's wait and see what the introverted actress has in store for us.
Tell us what's wrong with this post? How could we improve it? :)
Let us improve this post!