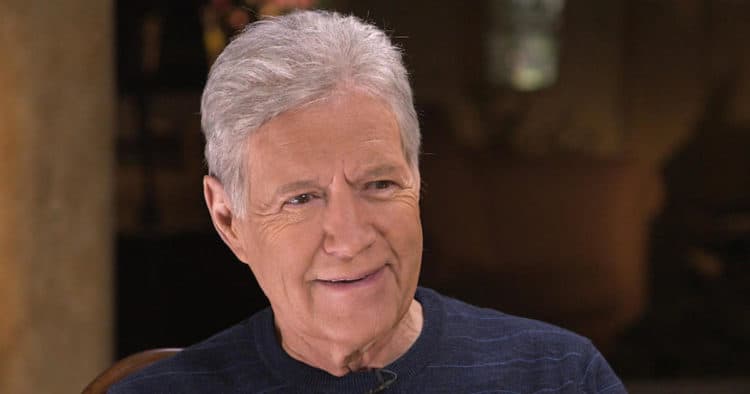 Earlier this year, we heard the sad news that Alex Trebek, legendary host of popular game show Jeopardy, had been diagnosed with pancreatic cancer. Trebek remains upbeat in the face of his prognosis, and is committed to fighting the disease at every step of the way. In honor of his courageous outlook, and in recognition of the 58-year career that's kept generations of TV fans entertained, let's take a look at some of the lesser known facts about the award- winning game show host.
1. He became a US citizen in 1998
Having worked exclusively in the US for several decades, the Canadian native made things official in 1998 when he became a naturalized US citizen. Trebek, who moved to the US in 1973, decided to change his status after feeling the odd one out in his otherwise all- American family. Trebek soon felt the effects of his naturalization, as he explained at the National Press Club luncheon. "… A couple of weeks after being sworn in, I received a lovely letter from the Los Angeles Superior Court informing me that I had just been selected at random from 2 1/2 million people to serve jury duty, " he shared.
2. He's been inducted into the Broadcasting Hall of Fame
In 2018, Trebek won the honor of being inducted into the National Association of Broadcasters Broadcasting Hall of Fame in Las Vegas. The honor is extended on a yearly basis to one candidate from radio and one from television. Trebek was joined by Elvis Duran at the ceremony, who was similarly honored for his work on radio. Notable past inductees include Jerry Lewis, Lucille Ball, Carol Burnett, and Bob Newhart.
3. He has a star on Canada's Walk of Fame
In recognition of his contribution to the entertainment industry, Trebek has been awarded a coveted star on Canada's Walk of Fame in Toronto. The star was presented in March 2006, making him only the second game show host in history to win the accolade (the first was Let's Make a Deal's Monty Hall, while the third is Howie Mandel of Deal or No Deal fame). Joining Trebek on the walk that year were actress Pam Anderson and singer Jann Arden.
4. He already has some ideas about the next Jeopardy host
In 2018, Trebek revealed to TMZ's Harvey Levin that he already had some names in mind as to who should replace him on Jeopardy at the end of his contract in 2020. According to Trebek, both Alex Faust, the announcer for hockey team the Los Angeles Kings, and Laura Coates, an attorney who has made regular appearances on cable news programs, would be worthy successors, an opinion he had already made clear to the show's producers. Both candidates were delighted to be mentioned, with Faust taking to Twitter to respond, "I'm flattered by Mr. Trebek's kind words." Coates, meanwhile, said she was "incredibly honored & humbled."
5. He had a near- death experience
In 2004, Trebek had a close call when he fell asleep at the wheel of his pick-up truck while driving the rural route home to his family house in Lake Nacimiento. According to reports, the truck ended up sailing 45 feet over an embarkment, before landing against a utility pole in a ditch. Trebek managed to escape without any serious injuries and was not cited in the incident. "I am very lucky and thankful that no one was badly hurt," he said in a statement. "My back hurts a little, but I plan to be in the studio this Tuesday for our regular tapings."
6. He once owned a horse- breeding farm
Trebek is a keen horseman, and at one stage, even managed a horse ranch that specialized in breeding and training thoroughbred horses. The 700 acre farm (named Creston Farms) was acquired by Trebek in 1996 after he was drawn "by the beauty of the place." After producing a number of championship winning race horses, (including his own colt, Reba's Colt), Trebek sold the ranch in 2008, and the site is now run as an event center.
7. His facial hair has attracted media attention
After sporting a mustache for over 30 years, Trebek made the bold move of going clean shaven during the 18th season of Jeopardy in 2001. As a prank, Trebek sported a fake handlebar during the April Fools edition of the popular game show, before re-growing it for real in 2014. A month after sporting his new look, he confused viewers by once again appearing clean shaven. At the beginning of 2018, Trebek's facial hair was changing quicker than the weather, and causing quite the media storm in the process: during the first episode of that years run of Jeopardy, he was sporting a full beard; by the second, it had reduced in size to a goatee; by the third, he was back to wearing just a mustache. Where he'll take his look next is anyone's guess.
8. He's a Guinness World Record holder
As well as being the recipient of multiple awards, Trebek is the proud title holder of a Guinness World Record. On June 13, 2014, Trebek entered the record books under the category "the most game-show episodes hosted by the same presenter (same program)". At the time, Trebek had hosted 6,829 episodes of Jeopardy, wiping the floor with previous record holder's Bob Barker's paltry record for The Price is Right. Trebek was clearly pleased with his achievement, telling his audience "The good news is that as long as I keep hosting the program I stay ahead of whoever is in second place, and that makes me feel good."
9. He's been named an Officer of the Order of Canada
In June 2017, Trebek was awarded the honor of being named an Officer of the Order of Canada by then Governor General David Johnston. The title was given in recognition of Trebek's "iconic achievements in television and for his promotion of learning, notably as a champion for geographical literacy." Trebek was one of 19 appointees to the Officer level. "Alex has done so much for geographic literacy over the course of his career," RCGS CEO John Geiger noted "He has helped to inspire many thousands of young people to learn more about our country and our planet. He represents the very best of us with a deep love of country, but also a global outlook and sense of humanitarianism. We are all very proud that he has been recognized in this way."
10. He's been married twice
Trebek married first wife, Elaine Callei, all the way back in 1974. The couple remained together for 7 years, but the marriage ended in divorce in 1981. In 1990, he remarried, this time to the then 26-year-old real estate project manager, Jean Currivan. The pair met at a party, but Currivan was initially hesitant about taking things further. "(I was) really nervous. I was afraid I'd mispronounce my own name!" she told People. "But Alex is really down to earth. He's much more casual than he is on the show." Since getting hitched, the couple (who are separated by a 24-year age gap) have had two children, Matthew and Emily.
11. He nearly became a priest
Prior to embarking on a career in entertainment, Trebek had a very different vocation in mind. Intrigued by religion, the game-show host dabbled with the possibility of becoming a priest… an idea he soon abandoned after spending a summer in a Trappist Monastery. "I took a vow not only of poverty but of silence," he told The New York Sunday Times. "And I'm not one to keep my big mouth shut. I enjoy talking." Just another case of God's loss, game-show's gain, then…
12. He once bought a house just to use its tennis court
While most of us can barely afford the house we've got, Trebek is clearly in a very different league. Rather than slum it at the community tennis courts, Trebek decided it would be much easier if he just bought a property with its own court… even if he had no intention of living in the house itself. Trebek ultimately ended up renting out the property, but he wasn't always the most conscientious of landlords- his tenants in the 1990's, actor Pete Ross and his wife Carol, had to call him in after they moved in to find the place riddled with electrical and plumbing problems.
13. He's featured in more than 70 movies and TV shows
In addition to his record-breaking run on Jeopardy, it turns out Trebek has also featured in a prodigious number of movies and TV shows, including White Men Can't Jump (1992), Short Cuts (1993) and Charlie's Angels (2000). The majority of his appearances have been as himself, but he's also taken on the occasional character… see his performances as Alan Quebec in Rugrats (1993), the unnamed Man in Black in The X Files (1996), Alex Lebek in Arthur (2000), and an Announcer on the Canadian animated children's TV show, The Magic School Bus (1996) for examples.
14. He has a hall named after him at the University of Ottawa
In 1961, Trebek graduated from the University of Ottawa with a degree in Philosophy. 54 years later, his alma mater would recognize its famous son by naming its alumni hall in his honor. The naming took place at a special ceremony in Ottawa, at which Trebek was keen to emphasize his strong roots with both the University and the city. As he told reporters on the Ottawa Citizen, despite living in the US for so long, his "fondest memories have always been on Ottawa."
15. He's won multiple Emmy's
In recognition of his stellar work on Jeopardy, Trebek has been honored with 6 Emmy Awards for Outstanding Game Show Host. The first Emmy came in 1989, swiftly followed by a second in 1990. 13 years later, Trebek would win again. He'd also come home with awards in 2006, 2008 and 2019. In 2011, Trebek missed out on his by then customary Outstanding Game Show Host award, but didn't come home empty- handed, claiming as he did the especially grand accolade of the Lifetime Achievement Award.
16. He has a star on the Hollywood Walk of Fame
By the time he was awarded a star on the Canada Walk of Fame in 2006, Trebek was already an old hand at the star business. In 1999, he was honored with a star on the Hollywood Walk of Fame, making him one of the very few celebrities with two coveted stars. If you're in Hollywood, you'll find his star at 6501 Hollywood Boulevard, located just next to actress Ann Margaret and legendary actor, Vincent Price.
17. He's a renowned philanthropist
Trebek has been involved in multiple philanthropic endeavors over the years, perhaps most notably with World Vision, with whom he serves as a spokesperson. His work with the organization has taken Trebek all over the world, and has seen him fund a medical clinic, a school, 8 wells and numerous other key facilities in a Zambian village he and his family have personally adopted. He's also been active in WonderWork, a foundation that provides relief to children born with disabilities, along with several other charitable foundations.
18. He moderated at the Pennsylvania governor's race
In 2018, Trebek was the subject of criticism when he moderated at a debate in the Pennsylvania governor's race. Rather than allowing the candidates the opportunity to debate the topics of the day, Trebek decided to dominate proceedings, talking for nearly half the allocated time and making some misjudged remarks about the sex abuse scandals in the Catholic Church. Trebek would later apologize for his handling of the debate, issuing a statement to say "I offer my sincere apologies to the people of Pennsylvania, a state I dearly love."
19. He's had 2 heart attacks
In December 2007, Trebek suffered a heart attack: the attack was mild, and he was fit enough to return to work in January. He suffered a further heart attack in June 2012, but again, was able to resume filming the following month. To calm worried fans at the time, a studio rep confirmed to The Washington Post 'He is in good health and already planning home improvement projects."
20. He remains positive in the face of his cancer diagnosis
In a prepared video statement in March 2019, Trebek broke the news that he had been diagnosed with stage IV pancreatic cancer. Despite the poor prognosis, Trebek says that he remains optimistic, and is determined to do as much as possible to beat the disease… if only because he's tied into his Jeopardy contract for the next 3 years. The news was greeted with messages of support from the world over, with even the Prime Minister of Canada taking to Twitter to say "Keep fighting, Alex – Canadians are rooting for you!".
Tell us what's wrong with this post? How could we improve it? :)
Let us improve this post!