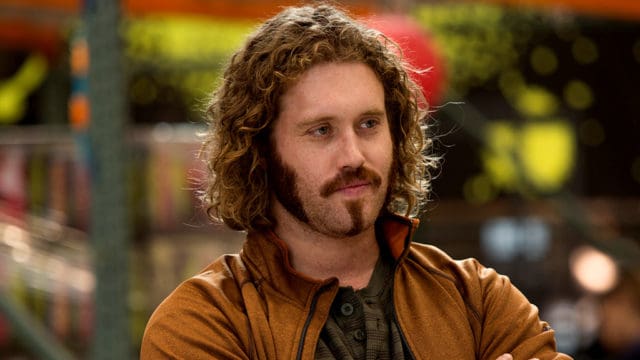 Whether you like him or not TJ Miller being accused of sexual assault upon a woman in the early 2000's seems to be a very heated attempt at trying to keep the controversy within Hollywood burning a little longer. The comic is being accused of sexually assaulting and punching a woman in the face during his time at George Washington University, which was about the time he met his current wife, Kate Gorney, who stands with TJ through this troubled time. The two have remained a solid front against these accusations and are confident that any further claims and attempts to refute his own counter-claim will be found to be false.
There should be no doubt to the veracity of such claims when they're levied against those that have truly committed them, but as of this year, during which one after another claim has been forthcoming in shocking fashion, people have been subjected to one shock after another. At this point it's no longer possible to feel surprise as each day the general feeling is "okay, who's being accused today?". The idea that the public has become even slightly melancholy about this matter is horrible as it indicates that the cycle might be making its way around again as outrage swiftly turns into resigned boredom which in turn could turn into the same indifference that has allowed such a thing to go on for so long.
And why is this happening? The unfortunate part is that there are people out there that have axes to grind with others. Be it one issue or another there are those people that discredit those who have true grievances that need to be amended by making such false claims. There is nothing at this moment to say that the woman accusing Miller is false, at least not until evidence is given that vindicates or vilifies her attempt at discrediting the man. Those that are truly in need of justice and not out to cause trouble are entitled to it. But those that are out to settle a score or finalize a grudge are the ones making it difficult for such a thing to happen. When one liar is found among the many victims then the entire lot of them become suspect unfortunately.
TJ Miller and his wife Kate are fierce advocates of gender equality and are working hard to get past this trying time as best they can, despite the fact that the woman in question, who wishes to remain unnamed, has given a very detailed account of what happened to her so long ago. While it would be very possible to say how and why such memories could be created and even corroborated by the friends that claim to have witnessed such abuse it is not my place nor my experience, and thus it must be left alone for the time being.
What is truly damaging in this case however is that such allegations, especially if they are false, do far more damage than good to both parties.
Tell us what's wrong with this post? How could we improve it? :)
Let us improve this post!